Celebrating academic achievement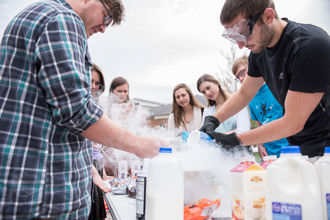 With all classes canceled at Marietta College on Wednesday, Joe Andler '15 spent his morning making homemade ice cream outside in the Kremer Amphitheatre.
But his preparation techniques were a little unconventional.
"He's making the ice cream with liquid nitrogen," said Dr. Dennis Kuhl, Rickey Associate Professor of Physics.
During the fifth annual All Scholars Day, all day classes were canceled so the campus community could either present research or attend research and poster sessions that were held throughout Wednesday.
"There are more than 140 unique presentations and exhibitions scheduled today, and the number of student presenters, faculty and staff involved in this day exceeds 250 participants," said Dr. Suzanne Parsons, Assistant Professor of Chemistry and Director of the Investigative Studies Program. "I want to thank scholars and their mentors for the excellent work that they've done this year, and for sharing their research results, class projects, senior capstones, experiential learning and honors theses with the campus community."
Andler and some of his classmates in various science clubs hosted a morning of science fun. Before making homemade ice cream using liquid nitrogen, he and a few of his Physics Club members experimented with a baby pool filled with water and corn starch to create a suspension, which has the feel of a solid when being handled but reverts back to a liquid when it is left alone. Several students stopped by the amphitheatre to observe the experiment and wade their hands through the pool of white, ruddy liquid.
But once Andler began mixing heavy cream, milk, vanilla and sugar into a tempered thermos, the crowd of observers began to grow. Once he mixed the ingredients, he began shooting the cold from the liquid nitrogen into the small vat. Bit by bit, the cold mixture was dumped into a large bowl, where a fellow student whisked the contents until firm ice cream was formed.
"Wow, this tastes really good, actually," Andler told the onlookers, who were ready to build their own sundaes with the chocolate candy and whipped cream provided. "It tastes just like vanilla ice cream."
That comment was enough to draw a rush of students to the experiment table.
Nearby, Molly Mays '16 and Anna Cooper '17 potted plant clippings to give to students to grow in their residence halls. They also had a few other interesting items to show off to their fellow classmates.
"We are with the Biology Club, and we're here to provide a science fun day exhibit," Mays said.
One of her displays included a baby corn snake — "He's really tame and is used to being handled," she said. The other display was much more disconcerting.
"So the other specimen we brought is the Madagascar hissing cockroach," Mays said, as she scooped the 3-inch-long bug from its habitat and allowed it to crawl from the palm of her hand to her forearm. "They're also used to being held."
Cooper, though only in her sophomore year, had an Honors Fellowship Research poster presentation later that afternoon.
"My research focused on sickness behavior in mice," Cooper said. "I studied how sick mice behaved within a group of healthy mice, and wanted to know if a sick mouse would act sick while in a group. What I found is that they obviously don't act normal, but also, they don't act sick. They don't behave the same way as the healthy mice do."
Justin Vecchio '18 attended chemistry research presentations in the Rickey Science Center. Five different group projects were presented, ranging from the analysis of fingerprint oils using gas chromatography, to bioengineering Thymopentin; toxicity and phototoxicity studies of parabens.
"I really was impressed with the knowledge they had about their topics," Vecchio said. "I didn't expect to see that high level of knowledge being presented with their research."