Charge to the Class of 2014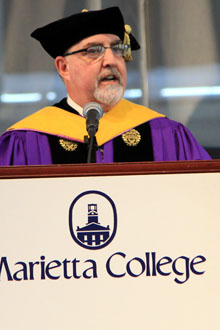 President Joseph W. Bruno
Charge to the Class of 2014
May 11, 2014
Thank you, Ms. Meyer, for being here today and for sharing your inspiring work and your experiences with us.  We thank you, too, for the leadership you have shown in supporting America's teachers as they educate the next generation of students.  As you know, we are fortunate here at Marietta to have one of the finest Education programs in the country, so some of the graduates seated in front of us will be joining the ranks of the teachers you support so effectively.  We admire your commitment to this high and noble cause.
And warmest congratulations to you, the members of the great class of 2014!  This is surely a great day for each of you, and I hope you are duly proud of your accomplishments at Marietta College.  But I also hope you have mixed feelings about leaving our beautiful campus, even though the next phase of your life will likely demand it.  And, finally, I hope you are adamantly opposed to the very notion of leaving our community.  You've been part of a remarkable group, the Marietta College family, and there is no earthly reason for that to end.  We will seek information on your accomplishments going forward, for you are our greatest ambassadors and your success is the strongest validation of our work and the best reminder of why we do what we do.  When this commencement ceremony concludes, please reach out to the members of the community who have supported you through your college years; that group may include your parents, other family members, friends, classmates, and undoubtedly, members of the Marietta College faculty and staff.  Thank them for their support, for their faith in you, and for the ways they pushed you to make it to this event.  And then take pride in your own dedication and success.
My actual responsibility today is to deliver the charge to you, the graduates.  So I'll begin.
First, let me address the prevailing view of you and your friends.  As the expression goes, I'm just the messenger here.  Yours is widely purported to be the self-entitled generation.  You are digital natives, as the saying goes, and seemingly assume the right to say anything you want without undue concern for tone or content or the feelings of the recipient.  And, if all of that is true, it's not entirely your fault.  We, the baby boom generation, your parents, have spent much of your life telling you how wonderful you are and ensuring that you receive a ribbon or trophy for everything you do.  Your generation is the first to receive the so-called "participation award" and I suspect that you have garnered many of these.  And when I attend the meetings that presidents attend, I sit through lectures on your tendency to work alone in your rooms, to ignore the library, to rely wholly on digital sources of information, and to socialize largely within on-line communities.  Some people of my generation fear that we won't be able to communicate with you on your terms, and that we won't be able to pass the world on to a generation prepared to lead us into the future.
But that's not the reality I see with Marietta students, you and your classmates.  First, I have little evidence to suggest that you actually read emails, filled though they may be with those important gems of wisdom we send your way.  So we can dispense with that part of a digital-native narrative.  More to the point, I've seen the way you come together as a community to celebrate a victory, to console each other in a time of loss, to support those in need of your help.  I'm amazed at the frequency with which, while walking the campus, I'm offered the opportunity to throw objects at students; sometimes it's a pie, sometimes some other food, and sometimes it's paint or other decoration.  This is always in support of a worthy charity or cause, and I make it a regular practice to contribute without exercising my throwing rights.  I have a personal rule against throwing things at students, partly because it seems inappropriate for a president, and partly out of the fear that you may be encouraged to return the favor.  But I'm grateful for the fact that you do these things in service to a group in need, and out of a charitable commitment you have made.  It would be unseemly for me to urge you to continue throwing things at each other, but my first charge to you is to retain your passion for serving your communities, digital and other.  It is a point of distinction for Marietta College, it is a point of distinction for our students and alumni, and it is, I hope, something you will continue for your benefit and for the benefit of others.  As Nobel laureate and humanitarian Albert Schweitzer said, "I don't know what your destiny will be, but one thing I know: the only ones among you who will be really happy are those who have sought and found how to serve."   If that's true, and who am I to argue with Albert Schweitzer, this group is destined for happiness.
My second charge is to use everything you've experienced here, the successes and the challenges, to prepare for meaningful contributions.  And, please, cherish and reinforce your liberal arts education.  The main thing we can say for certain about the future, is that there is little about which we can be certain.  The world changes, careers change, and you will have to change to remain the leaders you were meant to be.  As a case in point, most of you were born in or around 1993.  Bill Clinton was president, gasoline averaged $1.12 per gallon, Beanie Babies were introduced in stores everywhere, the World Wide Web was born, Jurassic Park was in theaters, the last Russian troops left Poland, and Intel unveiled the new Pentium processor.  Today Bill Clinton isn't even the most watched member of his family, we hope gasoline will remain under $4 per gallon, e-Bay is the best source for Beanie Babies, the Internet is inescapable, and Russia has marched into a different neighboring country.  So who knows what the future will hold?  The best thing you can do is to use your education and experiences to prepare for change.  This year alone you have distinguished yourselves in the classroom, you've mounted a wonderful production of "The Music Man," you've dominated forensics tournaments, you've earned numerous fellowships and prizes, you've been inducted into Phi Beta Kappa and many other honorary societies, you've curated gallery exhibits, you've used spring break to serve others, you've presented your work at scholarly meetings, you've provided memorable athletic performances, and you've lit up the stage in so many ways.  What does all of this amount to?  Well, it's a broad-based liberal arts education.  And you will find that you can use your writing skills, your speaking skills, and your analytical ability to harness those experiences and create the careers, and the nation, of tomorrow.  So revel in your education, the best investment you've yet made in yourself, use it for all it's worth, and continue educating yourself with every opportunity. 
So it is about time for us to recognize all of this learning and offer our official endorsement of your accomplishments.  Best of luck as you set off on the next phase of your journey.  Diane and I have been fortunate to know you, and we both want you to realize that you will be missed.  Please stay in touch and attend Marietta alumni functions in your area; we will be looking for you.  And thank you so very much for the contributions you've made to Marietta College and our community of scholars.  We are all proud of you for what you have done, and more to the point, for what you will do.