Charge to the Class of 2015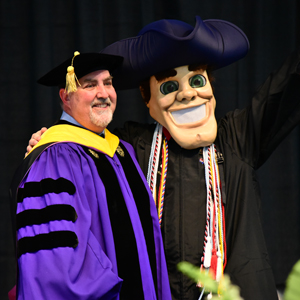 President Joseph W. Bruno
Charge to the Class of 2015
May 3, 2015
Thank you, Mr. Beale, for being here today and for sharing such wise words with us.  We thank you, too, for the leadership and courage you have shown during your years as a public servant and as Ambassador representing your native country in Washington, DC since 2009.  While there are many ways to serve, a commitment to hemispheric diplomacy and the promotion of international cooperation and understanding surely rank high among them.  [As Mr. Jelinek said,] you have combined your Marietta education, your experience in international banking and finance, and your commitment to world diplomacy to serve with distinction and integrity. We thank you for your adherence to noble ideals, for your service on the Council of the Organization of American States, and for the way you represent Barbados and, by extension, Marietta College.
And warmest congratulations to you, the members of the great class of 2015.  I have gotten to know many of you in the three years I've been at Marietta, and I can say in all sincerity that it will be difficult to see you leave us.  But you have done all we've asked, and it is time for us to recognize your accomplishments and certify your achievements.  This is a signature event in your lives, and you are fortunate to have parents, family members, and friends here to witness this celebration.  I hope and trust that you will remember to thank them for the support they've provided during your time here.  I know they're enjoying this day as much as you are.
But here's the question; do they really know what you've been doing for the past year?  I have come to know you as a fairly modest group, so I'm going to guess that you haven't been bragging about your accomplishments very much.  That's a good thing, since nobody enjoys hearing some brag about him- or herself.  Sometimes it's better to leave that to someone else, me in this case, at least for today.  From now on, though, feel free to take over.
So let me share some of your great works from the past year, in no particular order.
In February, the members of the Concert Choir gave a stirring concert in which they performed works by contemporary composer Jake Runestad, who was in attendance.  That program included the piece "Good Night, My Love," a piece Mr. Runestad wrote from the 1913 poem "Good Night" by Paul Laurence Dunbar, a native of Dayton and one of the first African-American poets to achieve national recognition.  If you go to Mr. Runestad's web site, you can purchase the score for that piece for the sum of $2.25, quite a bargain.  More to the point, you will see a product description that reads "Commissioned by the Marietta College Concert Choir, Daniel Monek, conductor."  That's the part that really excites me, and that's one of the reasons I so enjoyed attending that concert in February.  On top of the usual fine performance by the Choir, I realized that, in any future performance of this piece, the Marietta College Choir will be recognized as the organization that commissioned and premiered the work.  I love that notion, and not just for the publicity it provides.  It also reminds us that, while teaching and conveying knowledge is our primary function, Marietta faculty are also creators of knowledge.  And more to the point, they don't run off and do this as a solitary endeavor, but they are masters at involving our students in this noble exercise.
This is just one of many examples I observed, and many more were on display in the All Scholars Day presentations you gave a few weeks ago, or at the Art Department Juried Exhibition in February.  All Scholars Day featured several student research presentations and ended with the announcement of several academic awards and prizes captured by deserving students seated here today, and others of you were named to the Circle of Excellence at the Juried Exhibition.  And, Mr. Beale hosted several of you during the recent visit you made to Washington as part of your Leadership course on International Diplomacy, during which each of the participating students was assigned a country, wrote a briefing paper on that country, and then sat through an oral exam administered by a former U.S. State Department diplomat who had served in the assigned country.  And, many of you, Theatre majors or not, performed in, staged, or otherwise played key roles in the wonderfully artistic and provocative productions "The Other Place," "The Wayfarer," "The Love Talker," and "Real Girls Can't Win," among others.
You have also accomplished a great deal outside of the classroom, studio, or laboratory.  Our student athletes competed with passion, represented the College with distinction, and pushed themselves to new heights.  Never was that more obvious than in the work of the men's basketball team, one of the finest in program history, but we can also be proud of the fact that our athletes won the Ohio Athletic Conference Pop-Top contest by raising the most money of any OAC college in support of the Ronald McDonald house charity.  Your commitment to service is also inspiring, and it culminated in the recent Community Service Day in which over 150 students participated in projects throughout Marietta.   And, this news just in, the Marietta student production team won first place in the National Broadcasting Society Undergraduate electronic media competition for their coverage of the election debates held on campus.
With all of this in mind, I suppose I shouldn't be surprised that 17 of you were honored in the list of "Who's Who Among Students in American Universities and Colleges."
So what's next for you?  Only time will tell, but I'm certainly glad to have you among the next generation of our country's leaders.  We haven't made things easy for you, and you will be called upon to tackle a number of complex issues ranging from unrest in the Middle East, global climate change, the demise of the middle class, the equitable provision of affordable health care, and how to spend your time in a car that drives itself.  You have shown that you can roll up your sleeves and tackle a project independently, and you are wonderful collaborators who can serve and lead in a team setting.  Ambassador Beale has set the bar high, but I am confident that you will respond to the world's challenges with distinction, lead by example as he has, and make a difference on stages large and small.  That is my wish for you, and I know that is the goal you have for yourselves.  You will succeed because you are broadly educated, you communicate with a flair, and you are driven to continue educating yourself for the rest of your life.  You must simply trust in your skill and remain true to yourself in order to bring your best forward.  In the words of Garrison Keillor, host of Prairie Home companion and a national treasure himself, "To be your own person, you need good friends. Friends are the treasure of your life."  That will be relatively easy for you, since you have good friends sitting around you today.  In addition, you are joining the Long Blue Line of Marietta College graduates, and membership therein comes with 20-some thousand additional friends ready to help if you only ask.
So we have to let you go today, but not before I ask you to borrow another of the Ambassador's examples.  He is here today to serve his alma mater, and I can report that he responded quickly and enthusiastically when I asked him to come.  I hope you will be equally quick to remember this College we all love, and to serve her in all of the ways you can.  Please do stay in touch, and share with us your successes in later life.  You are now, and will continue to be, the best proof of the wonderful work done here by our faculty, our staff, and by generations of Marietta students.  I know many of you came to us as first generation students, or from families of limited financial means.  But as of today, you join the ranks of the privileged in our society.  You hold a degree at a time when the United States will be facing a tremendous shortage of workers with that level of training.  And yours is not just a degree, it is a Marietta degree.  Use it well.  I know you will.
Thank you, and congratulations on your enviable success at Marietta and on the many more to come.