Cine Latino to debut at College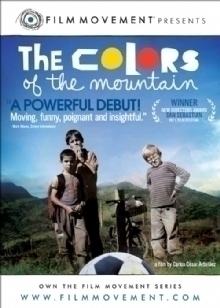 Cine Latino, an ongoing series showcasing Latin American and U.S. Latino films, makes its debut at Marietta College at 7 p.m., Wednesday, Jan. 30.
"We're beginning the tradition of Cine Latino at Marietta College to respond to the community's desire to know more about Latin America, its cultures, and its peoples, as well as the Latino experience in the U.S.," said Dr. Javier Jiménez, Assistant Professor of Spanish and Director of Latin American Studies Programs.
On tap first is The Colors of the Mountain, a Colombian film that looks at a childhood quest to recover the most important thing in life — a new soccer ball — from a countryside littered by mines.
All of the movies in the series are free and open to the public and held in Thomas 124. The Department of Latin American Studies is sponsoring the film series.
"Exploring these cultures through film is exciting and puts us in touch with them in ways that we just can't get from news articles or even books because they give us a sense of individual lives that help us understand broader social, political and cultural phenomena in Latin America and the United States," Jiménez said. "In this way, Cine Latino contributes to the College's core value of having a global perspective. We also want to give students, faculty, staff, and the community at large the opportunity to get together, relax, and have some fun together."
On Wednesday, March 20, Cine Latino will feature the Argentina movie The Headless Woman at 7 p.m. In this film, after running into something with her car, Vero experiences a particular psychological state. She realizes she might have killed someone.
In the final scheduled movie of the spring semester is the Brazilian movie Central Station at 7 p.m., Thursday, April 18. The film is about an emotive journey of a former school teacher, who writes letters for illiterate people, and a young boy, whose mother has just died, in search for the father he never knew.
The films, which are sponsored by the Latin American Studies Program and the Department of Modern Languages, are in Spanish or Portuguese with English subtitles.
For additional information: Dr. Javier Jimenez, jj002@marietta.edu.