Civic Engagement proud of volunteer work being provided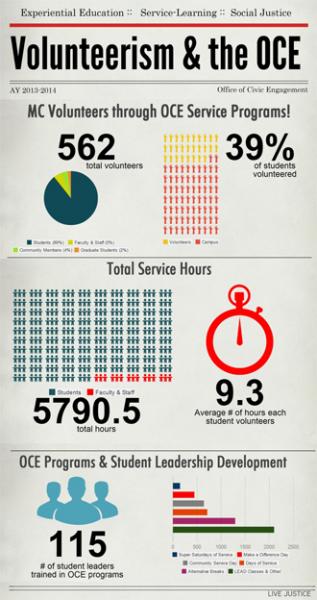 Marietta College's Office of Civic Engagement recently completed an inventory of community service completed by students, faculty and staff and are pleased to announce the group accumulated 5,791 hours during the 2013-14 academic year.
The Office of Civic Engagement's purpose is to provide Marietta College students with opportunities to become active and engaged in their community. Currently, the office works to foster community partnerships with more than 40 different non-profit organizations in the Marietta area. Whether through a single day of service or semester-long programs, all students at the college are able to work through Civic Engagement to seek service assignments that meet their needs.
Hollie Young '17 (Ripley, W.Va.) has participated in numerous individual and group service opportunities through the Office of Civic Engagement. Young has already become involved in volunteer service projects with the Ely Chapman Education Foundation, Mid-Ohio Valley Humane Society, Friends of the Muskingum River, Daily Bread Kitchen and Marietta in Bloom.
"I would definitely encourage students to stop by the Office of Civic Engagement if they are looking to get involved," Young said. "Maribeth (Saleem-Tanner) and Cristie (Thomas) are excellent at arranging unique partnerships between local non-profits and students."
Marietta students will get another chance to volunteer in the community during the annual Make a Difference Day, which is Saturday, Oct. 25. Students will be volunteering for one of 12 projects, which include on-campus beautification, O'Neill Senior Center's Autumn Harvest Dinner and Variety Show and a Halloween Party for the Boys & Girls Club of Parkersburg.
Thomas, who is the Office of Civic Engagement Coordinator, said OCE wanted to share the College's story of student involvement so they created an infographic to help.
"In creating this infographic, it not only showcases the amazing work of our students and our local community, but it also tells a piece of our story as the Office of Civic Engagement," Thomas said.
It shows that, as a whole, 39 percent of Marietta's student body is involved in community service at some level. However, Thomas believes that number is actually higher.
"These numbers do not include volunteerism done independently or through organizations that did not report to the OCE, such as Greek life and athletics. We are going to make a big effort this year to encourage all organizations and individuals to report their service to the OCE so that we may keep track of our campus' volunteerism," Thomas said. "That being said, 39 percent is a very encouraging number because if we were to extrapolate to include service not through OCE programs, I would bet that more than half of our campus did service this past year."
Gene Neill '16 (Vincent, Ohio) has worked with the Office of Civic Engagement on both long-term and short-term service projects. He has partnered with the local O'Neill Senior Center to help with marketing projects and provide technological assistance with items such as iPads and laptops. He's coached a junior high Model United Nations team and participated in setting up and tearing down for campus-wide service events. 
"The service opportunities I have had at Marietta have been great experiences," Neill said. "They have provided me with the ability to assist in the community and apply and develop skills and tools I have gained in the classroom. One can gain a sense of purpose in addition to accomplishment."
Thomas believes that community service helps students to find their passions, either by learning about careers that may interest them or by discovering causes they care about. She said that student service is a critical component in the development of students into active community members.
"Oftentimes, we look at the college experience as fleeting; the moment we step on campus, we know our graduation date and we have the end in sight," Thomas said. "But, what we don't realize is that four years is a big chunk of our young adulthood; encouraging our students to maximize their time spent in Marietta, including off-campus involvement, is really important to creating well-rounded, engaged, and passionate students."
The Office of Civic Engagement currently has 130 requests from community organizations for ongoing student volunteers. They now have a website, www.ocemarietta.wordpress.com, that allows students to search for volunteer opportunities by issue, location, project or organization.
Neill's advice to Marietta College students interested in service is to work with multiple organizations to find a good fit.
"Whether you have been involved in service extensively or not at all, it is a perfect time to try it," Neill said. "This is the time to figure out what you are passionate about and there is no better way to discover what that is than to go out and try everything, at least once."
Young said that volunteering has helped her to truly feel like a part of the Marietta community.
"Volunteering adds more to the college experience. It is the best way to integrate into a new community," Young said.  "Through volunteering, Marietta has become more than just the place I go to school — it is my home."