Class of 2019 closes out first day on campus with Matriculation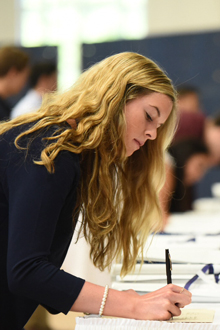 Much earlier than in recent years, Marietta College's new students arrived on campus and participated in the annual Matriculation.
More than a week before classes are scheduled to begin, approximately 300 new students filed into Dyson Baudo Recreation Center to begin their Marietta College journey.
About 400 parents, family and friends were also in attendance as the Class of 2019 heard from President Joseph W. Bruno, Provost Janet Bland, and a few others on Sunday, Aug. 16.
"I hope you're as excited as I am about the start of this new academic year, and ready to delve into the opportunities, the challenges and the responsibilities that it will surely bring," Bruno said. "The first group of Marietta College students arrived in 1835 and so I think that makes you the 181st group to enroll in the College."
Like many of the students who matriculated before them, the Class of 2019 also joined The Long Blue Line Sunday by signing the historic and ceremonial books during the event in front Marietta College's faculty.
Eric Dowler '07, representing the Marietta College Alumni Association took the opportunity to let them know it's OK to start thinking about graduation day in 2019, but to get the most out of their time on campus over the next four years.
"All too for most of you in four very short years you will be preparing to leave Marietta College and head out into an exciting world," he said. "However, you will not only wonder where the time went, but whether there might be an opportunity to extend your Marietta experience. … How about a lifetime? A lifetime connection is a real possibility. In all probability the friendships and relationships you build over the next four years will be so strong that you'll find it difficult not to find some ongoing involvement."
Before the students were allowed to leave for class photo and eat the post-Matriculation meal, Bland reminded Marietta's newest students what a great place they have chosen to continue their education.
"You're about to join an institution that has gained recognition over the years for being among one of the best liberal arts colleges in the country," she said. "Sitting right in front of you are the people who will change your lives. They are among the best teachers in the nation."
On Monday, the majority of the freshmen will board buses and go to ACE Adventure Resort in Minden, W.Va. to kick off Welcome Week. The students have a full week of activities before classes begin on Monday, Aug. 24. The annual Family Weekend is Sept. 18-19, and the Fall Break is Oct. 3-6.
Homecoming 2015 is scheduled for Oct. 16-18, and Thanksgiving break is Nov. 25-29. Fall final exams begin Dec. 7, and the spring semester starts on Monday, Jan. 11.