Class of 2019 ready to arrive at Marietta College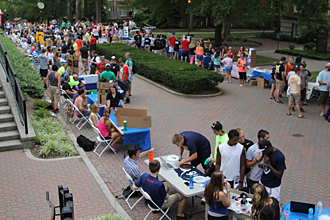 Most of the 350 new Marietta College students will begin arriving on campus Sunday, Aug. 16, as they begin a new adventure as Pioneers.
Families will begin arriving on campus at 8 a.m. — and maybe earlier — to start the freshman move-in process. President Joseph W. Bruno and his wife, Diane, will be there to greet many members of the Class of 2019 and their families.
"Diane and I enjoy walking down to the freshman housing complex as the new Pioneers begin their exciting journey as part of the Marietta College family," President Bruno said. "There's something refreshing and exhilarating about the start of a new school year, and I can't wait to see everyone as they start arriving and returning to campus."
There is a chance of rain on Sunday, which could reduce the heat index a bit as temperatures are expected to reach 88 degrees. Once everyone is moved into their residence hall, the new students are expected to line up for the annual Matriculation ceremony at 3:30 p.m. The program begins at 4 p.m. inside the Dyson Baudo Recreation Center and typically lasts about an hour.
At 5:15 p.m., the First Year Student & Family Hello/Goodbye BBQ begins inside the recreation center, and then the first day comes to a conclusion with the CAMP 2019 Pre-Trip Orientation at 7:30 p.m. at the Alma McDonough Auditorium.
"I'm so excited to welcome the incoming class. This year we have had amazing collaboration between various offices in Student Life and Academic Affairs to create a meaningful and exciting Welcome Week for our first year students," said Dr. Suzanne Walker, Associate Provost for Undergraduate Education. "Starting with Matriculation on Sunday, the experiences that CAMP 2019 will offer early in the week, the academic focus of Thursday and Friday, culminating with a day of Service on Saturday, Welcome Week makes clear the fact the 'The Long Blue Line Starts Here!' "
Activities are scheduled all week to help build a foundation for each student as they begin their college journey.
On Monday, students will board buses and head off to ACE Adventure Resort in Minden, W.Va., where they will participate in team challenges, as well as go white water rafting. This will continue on Tuesday and the students will return to campus on Wednesday.
Also on Wednesday, the new Pioneers will visit downtown Marietta as part of ExplorETTA — a way to learn about the restaurants, shops and other gems that will be a part of their four years on campus.
On Thursday, the activities turn more toward the academic side of college and the students will participate in The Amazing Library Race, Dyson Baudo Recreation Center Sports Extravaganza and the First Year Complex Block Party on the Marietta Hall Front Lawn.
The Class of 2019 will get their first taste of a college class when they go to Academics Starts Here: FYS First Class in the morning. They will also make their first connection with the Career Center that afternoon, and get some free ice cream from the offices of Irvine Hall. The evening wraps with a Walk to the River! Valley Gem Sternwheeler Ride.
The exhaustive, but comprehensive week comes to a close on Saturday with the First Year Community Day of Service in the morning and will come to an end that evening with two exciting events — Pioneer Football Scrimmage at 7 p.m. and a Casino Game Night at 8 p.m.
Classes for all Marietta students begins on Monday, Aug. 24, which is also the first of two Pioneer Connect Days in the Recreation Center.
The first week is almost always a hectic time for every student as they settle into a new schedule, the College will conduct its Involvement Fair from 5-8 p.m., Wednesday, Aug. 26. On Saturday, Aug. 29, will be the annual Welcome Back Bash from 6:30-10 p.m. in the Hermann Bowl.
"I hope that everyone will take the opportunity next week to be aware of the many choices for a meaningful life that start here. Our First Year Experience philosophy speaks to the importance of engagement in academics, campus and community, and self-discovery," Walker said. "My wish for all new students is that Welcome Week will be the starting point for that engagement which will lead them first to graduation and then on to a meaningful life as members of The Long Blue Line."