Class teaches students to fight safely for performances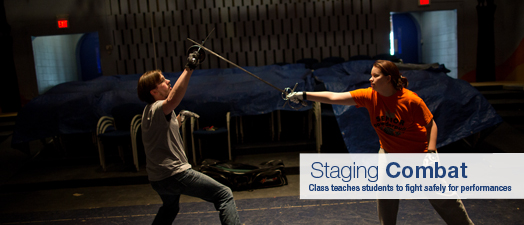 Last semester, Assistant Professor of Theatre Andy Felt began teaching a class in which students learned how to hurt or kill someone — and then do it safely on stage.
The art is called stage combat.
"Stage combat is the depiction of violence for theatrical purposes," Felt says. "It is basically anything that shows violence but is fake."
Felt started the class last spring with 14 students, a number that far exceeded his expectations.
"Stage combat was a really exciting course," says Morgan Massaro '16 (Caldwell, Ohio), one of the first students to experience the class. "Depending on the intentions of the playwright and the director of a show, fight choreography may be necessary for a sword fight, fist fight or even a simple slap. The goal is to portray this to the audience in a way that is both believable and safe."
In the class, students learned how to engage in both unarmed combat and single-sword fighting. They used steel weapons — rapiers, swashbuckling swords and fencing foils — made especially for stage combat.
"The swords are built to look like real weapons, but also to be banged against each other without shattering," Felt says. "They are closer to an actual weapon than they are to a replica."
Stage combat is relatively new material to the world of colleges. Felt says that it first became a college course in the 1990s. There is only one organization in the country that provides stage-fighting certifications: The Society of American Fight Directors.
Two summers ago, Felt attended its national conference at the University of North Carolina School of the Arts. The conference consisted of three weeks — 14 hours per day — of stage combat training.
"It was the hardest thing I've ever done in my life," Felt says with a chuckle.
While at UNCSA, Felt took classes in three types of stage combat: rapier and dagger, broad sword, and unarmed combat. One week was devoted entirely to quarter staff, or pole weapon training, and another week Felt learned how to wield a knife. He also took one day of firearm safety courses.
"I'd done a lot of stage combat as an actor, but I'd never really studied it formally," he says.
Felt is now a certified "actor-combatant," which is the first level of combat is SAFD. He believes that attending the conference was important primarily for him to better monitor the safety of the students.
"Our students are drawn toward doing work that has violence, like fist fights, sword fights or gun fights — or even people slapping each other," he says. "I needed to be able to look at the work they were doing and know whether or not it was safe."
Some students from Marietta's newest batch of combatants explained that the class was exciting, but very demanding.
"To students taking this class, it is a lot of fun, but be warned there are days when you will be worked into the ground and class will be high paced," says Jon Ramey '15 (Cheshire, Ohio). "It is intensive physically because once you have learned a fight you have to run it over and over to make sure the timing is right so you don't hurt anyone. It is especially nerve racking when you get to fighting with weapons."
Massaro says she felt the training was very applicable to her work as an actor.
"Andy Felt and his collaborators did an incredible job of teaching us the purpose, history and effects of stage combat," Massaro says. "Safety was always the top priority, but we always had fun."
Students will see the results of some of Felt's stage combat training in the Theatre Department's upcoming production of The Maids, which opens Sept. 21. This play contains a few elements of violence including a kick to the forehead, a strangling, a slap, and even a scene where an actor is beaten with a horse whip.
Felt hopes to do a large combat show within the next year or two. Though he has a big vision for his class, he is very modest himself.
"I don't really know how to swordfight; I know how to pretend to swordfight," he says.