Co-founder of The Be Kind People Project to give keynote at Commencement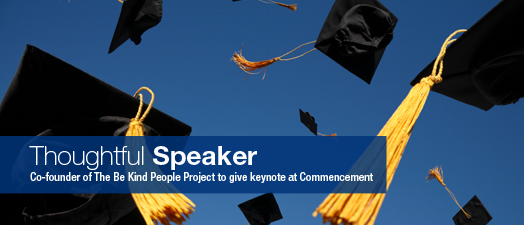 Marcia Meyer, co-founder of The Be Kind People Project, will deliver the keynote address at Marietta College's 177th Commencement Exercises on Sunday, May 11.
The ceremony will begin at 1 p.m. and will be conducted in the Dyson Baudo Recreation Center.
Meyer, who lives in Paradise Valley, Ariz., formed The Be Kind People Project with her sister, Marlene Waltz, to recognize and assist teachers in schools in underprivileged areas.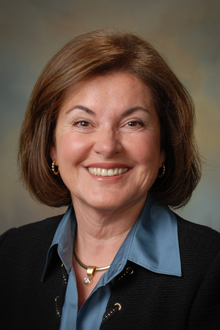 ​"Marietta College students have an entrepreneurial spirit and at the same time are driven to give back to their communities," says President Joseph Bruno. "When I learned of Marcia Meyer's work, I knew she would be a perfect fit to give our Commencement address. We want speakers who are motivated by the opportunity to speak to a Marietta College audience, while also selecting a speaker who will motivate our graduates. We fill both of those requirements with Marcia Meyer."
Meyer says she feels privileged to have the opportunity to speak to Marietta's Class of 2014.
"I don't consider what I would do anything mind breaking, but maybe just to put into perspective what are some of the next things they can expect in life," she says. "What they are doing is not really an end, but a foundation that serves them for the rest of their lives."
In less than a decade, Meyer has helped the organization grow to a "sizable organization" that is dedicated to recognizing the nation's 6.2 million teachers. The mission of The Be Kind People Project is "to improve the social, emotional, and learning environment in our nation's schools purposefully thanking teachers and equipping students with character development tools that help build positive and healthy relationship skills."
The nonprofit organization has developed a comprehensive national program of classroom events, contests and Classroom Kindness Kits that teach kids it really is cool to be kind.
"Doing this was never in my life plan," Meyer says. "My life experiences and things I learned along the way worked into a combination of things that proved to be the perfect foundation for moving forward. We thank and acknowledge America's teachers … and sadly there is not another non-profit that has this as a focus."
Meyer's organization started in Phoenix and Kansas City. Now the goal is to honor one million students and teachers across the United States.
"If anyone would have told me three years ago that we'd be honoring millions of kids and teachers I wouldn't have paid attention to them," Meyer says.
She believes connecting with younger students will have a long-term impact on the future of the country.
"The lack of civility in America right now is at a shocking level right now. Something like 95 percent of Americans today say it is a big problem," she says. "It is our hope if we reach a million kids this year these will be the people that will make a difference in our country and the cultures of our communities."
Commencement weekend gets started with Strawberries & Crème for graduates and families at 1 p.m., Saturday, May 10. The traditional lunch runs from noon-1:30 p.m. in the Recreation Center. Many of the graduates and family members will work their way over to the Alma McDonough Auditorium for the Baccalaureate service from 2-3 p.m.
President Bruno and his wife, Diane, will host a family reception from 3:30-5 p.m. at their home on 301 Fifth St.
On Sunday, graduates will check in for the ceremony from 11:30 a.m.-12:30 p.m. Following Commencement, the College hosts an informal reception for graduates and families.