Coach Brewer earns national award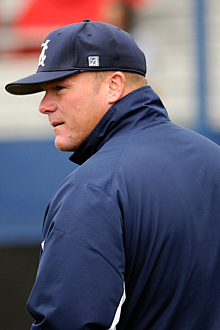 Marietta College Baseball Coach Brian Brewer was honored with the highest award in his profession at the annual American Baseball Coaches Association (ABCA) convention held at the Hyatt Regency Hotel in Chicago.
Brewer was named the 2012 ABCA/Diamond NCAA Division III National Coach of the Year Friday (Jan. 4) evening after leading the Etta Express to back-to-back NCAA National Championships.
"This award is the result of a group of young men that set a goal to do something Marietta College Baseball had never done before, and refused to be denied," Brewer said. "We faced elimination nine times in the regional and World Series and there was never any doubt in the minds of our players that we would accomplish our goal of winning the National Championship."
The 2012 title is the program's NCAA-record sixth National Championship. The Etta Express won the first back-to-back Division III baseball championships since Rowan University (formerly Glassboro State) did it in 1978-79.
With the win, Brewer also equals the number of championships won by legendary Marietta coach Don Schaly at three apiece.
"While my name is on this award, it really recognizes our entire staff," Brewer said. "The success of our program is a direct result of the hard work and dedication of Coaches Deagan, Castle and Becker. Our athletes get to work on a daily basis with some of the finest coaches in college baseball."
Brewer led the Pioneers to an overall record of 48-8 and 16-2 in the Ohio Athletic Conference. Marietta won the OAC Tournament for the 30th time and also claimed the program's 22nd NCAA Mideast Regional title.
In his nine seasons at the helm, Brewer has led the Etta Express to four World Series appearances and the national championship in 2006, 2011 and 2012. In addition to his third national coach of the year award, Brewer was also named the 2012 NCAA Mideast Region and the OAC Don Schaly Coach of the Year.
The Pioneers gave Brewer his 400th career coaching victory when they defeated Manchester (Ind.) University 7-3 in the Mideast Regional championship game. Brewer's career record is 405-191-1 in 13 seasons. In his nine years at Marietta, Brewer is 326-111-1 for an incredible .745 winning percentage.
Preseason workouts begin in two weeks and the Pioneers are slated to open the 2013 season on March 2 and 3 in Xenia, Ohio. Marietta plays Anderson (Ind.) University and DePauw (Ind.) University each day.