College's IT Department shows support for local food pantry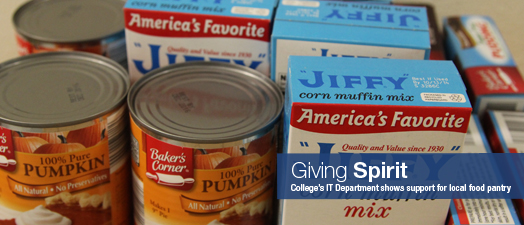 It's easy to get lost in the busyness of the holiday season and forget about how impactful a little time and effort can be on a local charity.
Over the past week, Candy Waite and other volunteers at the Gospel Mission Food Pantry distributed free food to 608 people, an unfortunate new record for the Lancaster Street mission. On Monday, Marietta College's Physical Plant delivered 1,096 food items to the pantry. The food was collected over the past few weeks during a campus-wide food drive. More than half of that total — 637 items — were collected by the Information Technology Department.
"It was such a blessing to receive, especially for this time of year when the needs are so great," Waite says. "We are seeing new faces all the time."
Each year, Physical Plant hosts a Holiday Door Decorating Challenge to the different departments and asks that participating office hold a canned food drive in conjunction with the friendly competition.
"We began collecting food items after we started the door contest," says Mike Robinson, UNIX Administrator and Internet Manager at Marietta. "We were able to get donations from friends, family, alumni, emeritus faculty, and even other departments not competing in the door contest. Many people in the department who donated also made multiple trips to local grocery stores to buy cans and boxes of food."
IT stored the food in Debbie McNutt's office in the basement of Irvine and, by the time the contest was finished, there was very little free space left.
Once the stack of food began to grow and the donations surpassed 100 items, the IT Department ramped up their personal goals.
"As it became apparent first that we were getting close to 400 items, we pushed for 400, then 500, and finally 600 items," Robinson says. "We actually had friends and family interested in donating after we completed the collection and had to ask that they deliver their donations directly to the food pantry."
Marietta College has previously worked with the Gospel Mission Food Pantry, which is located in the Harmar Community Center at 311 Lancaster St. The food pantry, which also distributes Bibles to whoever wants one, does not have geographical or financial requirements for people wanting food. The regular food distribution takes place from 2 to 4 p.m. Wednesdays, but also gives food to people in emergency situations on other days.
"We saw this as a team building project," Robinson says. "As we started decorating the door, friends and family wanted to donate to the food drive since it was such a worthy cause. As the donations began coming in, it encouraged each of us to donate more. What we have found is that many people want to donate to worthy causes this time of year, but they don't know where to donate."