College announces 2014 Athletic Hall of Fame class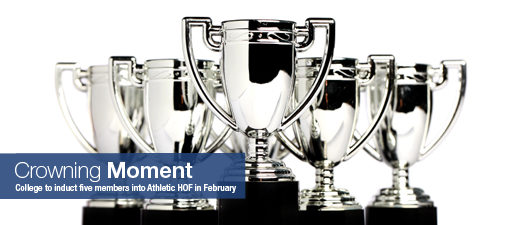 Marietta College has won only a single Ohio Athletic Conference championship in soccer and Ken Rickvalsky '84 just missed being a part of that team.
But the four-year starter at goalkeeper still feels like he played a part on the team that won the title in the fall of 1984.
"Marietta men's soccer had long been an up and down proposition," Rickvalsky says. "Yet, being a part of the 1980-83 seasons, where the men's soccer team won more games each year than the year before, and then we seniors in the fall of 1983 essentially handed it off to that special group of 1984 that finished the job, bringing Marietta men's soccer its best season ever. They got it done, and it felt like part of us, those who helped teach them the way, were along for 'docking the boat.' "
A championship trophy may have eluded Rickvalsky, but his leadership and performance during his four years was not forgotten. Rickvalsky, along with four other former Pioneer athletes, will be honored in February as the 2014 Hall of Fame class.
He will be joined on campus during Winter Weekend by champion rower Charles Edwards '67, three-sport standout Kathleen Sutphin '83, all-conference wide receiver Antonio Hutton '98 and three-time All-American pitcher Matt DeSalvo '02.
The Hall of Fame ceremony begins at 7 p.m., Saturday, Feb. 8, in the Dyson Baudo Recreation Center. The basketball teams will also be in action against OAC rival Heidelberg. The women play at 1 p.m. and the men at 3 p.m. Tickets for the ceremony and dinner are $25 and can be purchased through the Department of Athletics by contacting Wendy Thieman at (740) 376-4665 or thiemana@marietta.edu. Online registration is also available at: https://www.alumniconnections.com/olc/pub/MRO/geventcal/showListView.jsp
​"I am honored to be included with any award that also includes (former baseball coach) Don Schaly '59," DeSalvo says. "I am not a very emotional person and didn't react as if I had won the lottery. … But I am happy that this title may give me an opportunity to make a greater impact in this game in some way in the future."
Charles Edwards '67 — Rowing
Charles Edwards rowed on Marietta's Varsity Heavyweight 8 for four years under legendary coach, Ralph Lindamood. During that stretch, Marietta won two gold medals, one silver and one bronze at the Dad Vail Regatta. The Pioneer Navy also sported a 63-1 regular season record. Edwards is proud of the fact he never lost his seat in the Varsity 8.
"I transferred to Marietta (in the spring) of my freshman year," Edwards says. "I did not have any of the fall training, so I had no plans of rowing my freshman year. When I got there, Coach was playing musical chairs and somehow I ended up in the stroke position in the varsity boat."
Edwards participated in the 1964 Olympic Trials and was a member of the 1963 national high school rowing championship group from F.C. Hammond High School in Alexandria, Va.
When he wasn't on the water at Marietta, Edwards was a member of Delta Upsilon fraternity, Theatre Guild and the Economics Club. He enjoyed a highly successful career with Sears Roebuck & Co. that spanned 35 years and various management positions.
Edwards also worked at the former Esso gas station and did odd jobs for Coach Lindamood. "I worked at the concession stand and made so much popcorn in the basement at Marietta High School I couldn't eat any for years."
He currently lives in Grand Haven, Mich., with his wife Sue, whom he married during his sophomore year at Marietta. They have two adult children, son Chris and daughter Beth — both played college basketball. The Edwards' also have five grandchildren.
Edwards certainly has the support of his former rowers.
"It is difficult to select one person from an athletic endeavor such as crew for the Hall of Fame as the sport is the epitome of a team effort. To single out one individual seems a little unjust," says Jim Byer '66, captain of the 1966 team and member of the Hall of Fame. "But those of us in the boat know the difference between a good rower and an influential great oarsman. Charlie, through his rowing skills, his enthusiasm for the sport, for his leadership by doing earned him the respect of his peers. If he were alive today, Coach Lindamood would have fully supported our nomination and in his own way would not have let the Hall committee bypass Charlie's entry."
Kathleen Sutphin '83 — Basketball, Softball and Volleyball
By the time Kathleen Sutphin graduated in 1983 with a Bachelor of Arts in Psychology, she had earned nine varsity letters — four in softball, three in basketball and two in volleyball.
She served as the team captain in all three sports and was named the team MVP in softball in 1982. She made the all-tournament team in a 1982 event in Wheeling, W.Va. When she played, softball was still a slow-pitch contest, basketball was still played with a men's ball and there was no three-point line, and volleyball was side-out scoring.
But Sutphin remembers her days playing competitively before women's athletics was part of the Ohio Athletic Conference fondly.
"For me, more important than recalling our win/loss record, is remembering all my teammates and coaches and so many fun memories we shared through sports: the long van rides and $5 meal vouchers for away games, the preparation, laughs and team bonding," she says. "So many great people and stories from a time when women's athletics was just beginning to come of age. Women's athletics have changed and advanced so much since I played in the early '80s. Having watched many high school and college volleyball, basketball and softball games over recent years, I often wonder what it would be like to be a female athlete now versus then. Would I want to change places? No. It was a great time to be a Pioneer!"
Sutphin was a member of Alpha Xi Delta sorority, a Freshman and Sophomore Scholar and a member of Omicron Delta Kappa. She has been a special education teacher for the past 26 years and she still plays in her local town league of Rutherford, N.J.
"I was lucky to have met Coach (Debbie Lazorik) at the beginning of her distinguished career at Marietta. She was my coach and teacher. She was a strong role model for both athletes and students, instilling a love and passion for sports and fitness," Sutphin says. "The impact she had on the women's athletics at Marietta was immediate. She brought a competitiveness, drive and high expectations to the teams and athletes she coached. I was witness to the beginning of equity for women's athletics and Coach was the driving force behind that equity at Marietta. Of all the outstanding achievements Coach Lazorik has attained, there is none greater than the impact she has had on the numerous students and athletes she has mentored over the years. I am fortunate, thankful, and proud to have been one of those very first student-athletes."
Ken Rickvalsky '84 — Men's Soccer
Ken Rickvalsky says he didn't need enshrinement in the Hall of Fame to validate his Marietta career, but he certainly appreciates the recognition from a place he still cherishes.
"The four years I spent across the river from Parkersburg laid the strong foundation for who and whatever I may be today," he says. "The HOF selection did nothing but bolster and rekindle countless fond memories of all that was good and giving about Marietta College, and the privilege of being a student there, once and forever."
Rickvalsky was named All-Region in 1981 and 1982, All-Ohio in 1980, 1981 and 1982 and All-OAC in 1981, 1982 and 1983. When he graduated, Rickvalsky held almost every goalkeeper record at Marietta with saves in a game (25), career saves (408) and career shutouts (18).
He is currently a national product engineer with McWane Ductile Iron Pipe Group, which is based out of Birmingham, Ala. Rickvalsky currently resides in Waretown, N.J. He is also an accomplished videographer and has worked with his son, Kyle, to shoot and create videos for the Southern Regional High School football program from 2006-12.
"I was fortunate enough to be considered for a few larger colleges and universities because of my soccer skills, but I chose Marietta for the one thing they did not offer — the unique combination of a highly regarded technical degree (Petroleum Engineering) and the Liberal Arts base of the College itself," Rickvalsky says. "I joke to this day, with a serious note implied, that because of Marietta's educational philosophies I am an engineer who is not afraid to tackle any problem yet can answer a phone and keep the conversation moving to a productive conclusion, and ... write one heck of a letter!"
Antonio Hutton '98 — Football
As he passed the Hall of Fame plaques as an undergraduate, Antonio Hutton sometimes would stop and read the names and he hoped to be added among this elite group one day.
Duke, as he was affectionately referred to by friends and teammates, will have his plaque on the wall soon.
"I am so glad to be selected to the Hall of Fame. Now that I'm here at this point, I would like to thank everybody who was part of Pioneer Nation, past and present," Hutton says. "I wish Coach (Gene) Epley, Coach (Tom) Groom, my aunt Tyna and my grandma could be there to see it but they will be there in spirit. Long after I'm gone from Earth, even though my plaque can't talk, it will hopefully inspire future students to excel and always put life and meaning into everything they do."
Hutton earned four varsity letters as a standout receiver from 1994-97, and was named first team All-OAC in 1996 and 1997. He was also All-Region in 1996. He was also a member of the 1995 team, which is considered by many the greatest in school history. The Pioneers went 8-1-1 and ranked in the Top 10 nationally.
He finished his career with 151 receptions for 2,209 yards and 19 touchdowns. He still holds the school record for touchdown catches in a season (eight), and punt return yards in a season (407).
"I loved playing football at Marietta College. What I loved the most was the camaraderie we all had as teammates. We worked hard on the field, cheered each other, hit and hurt each other, then we hung out at the cafeteria and laughed the rest of the day away," Hutton says. "There was a strong brotherhood team-wide. One day you could be chillin' with receivers and the next you could hang out with the linebackers. The bonds and friendships we had are still present to this day. That's what made my Marietta experience so special."
After graduation, Hutton taught art for grades kindergarten through eight, but he left and started his career as a postal carrier for the U.S. Postal Service. He earned a Bachelor of Arts in Graphic Design and he puts that to good use today as he started his comic book business — DeMonD Comics. He has produced an animated movie based on his comics. He is currently working on a second movie and plans to open an animation studio in 2014.
"I once had a professor named Ron Wright. He was a true artist. He loved the way I painted. He told me 'Duke, you can draw ... but how does that make you feel?' " Hutton says. "Those words helped me realize that when you do anything, add some emotion to whatever you do to give it life and meaning. To this day when I paint portraits, comic books or draw concept art, I try to show the world how I view it through my eyes."
Matt DeSalvo '02 — Baseball
Matt DeSalvo needed Don Schaly and if he were still alive, Schaly might tell you he needed DeSalvo.
When he arrived at Marietta in the fall of 1998, DeSalvo knew he could play baseball at a high level. But he knows the daily reminders from Schaly helped him reach the pinnacle of the game when he made his major league debut in 2007.
"Coach Schaly's coaching style was brilliant because he would push every player to the point of disliking him. The player would feel the burn in his legs of running up Euclid while watching Coach smoke a cigarette, or his demand for perfection within a game and become angry at the crazy expectations," DeSalvo says. "During the offseason, the players disliked Coach but by the time the season began, they all respected his technique and wanted to win for him. There was not single person who would not come to tears when Coach would begin to speak prior to a regional championship and tell everyone of how proud he was of them and his wish to keep this team together for longer."
DeSalvo was part of three Mideast Regional championship teams and finished second in the nation twice (2001 and 2002) and fifth once (1999). He still holds countless pitching records for the Etta Express, including strikeouts in a game (19-twice), strikeouts in a season (205, NCAA record) and strikeouts in a career (603, NCAA record). He also holds the NCAA record for career victories with 53.
He was the National Player of the Year in 2001 and the National Pitcher of the Year in 2003. He missed most of the 2002 season with a knee injury and was granted a fifth season by the NCAA, which allowed him to play the 2003 season — Schaly's final season.
"Marietta College baseball put me on the map in the baseball world. I enjoyed playing the game and had aspirations to play at the highest level, but I wasn't sure of my potential," DeSalvo says. "Marietta baseball was identical to the culture of the New York Yankees. Both teams had a leader who expected undeterred devotion, respect for the game, uniforms and grooming to be clean and professional, and a powerful tradition that filled the players mind and heart with respect and high expectations the moment the pinstripes were wore. The transition from Marietta to professional baseball wasn't difficult for me because the similarities of both teams helped me become more comfortable and understand what was expected of me."
DeSalvo played 11 seasons of professional baseball, including stints in Venezuela, Puerto Rico, Dominican Republic and Taiwan.