College announces 2015 Athletic HOF Class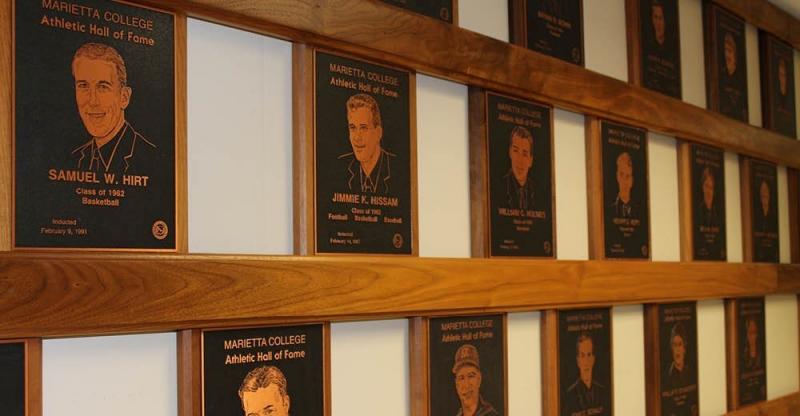 As the national anthem was being played at Pioneer Park, the reality of his baseball career was nearing an end hit John Hefner '85.
"When I took the field for the start of the 1985 Division III Championship game … it occurred to me that I'd never be here again. I nearly cried," he said. "Those four years were as much of a foundation for my future as the four years of academics. I can't speak for the other guys, but I learned more about myself than I could have ever thought possible."
More than 30 years have passed since "Hef" scooped a low throw at first base or belted one those hits to the gap that became a triple, but the All-American is one of five former athletes who will be honored as the newest members of the Marietta College Athletic Hall of Fame this winter.
On Jan. 24 — as part of the annual Winter Weekend celebration — John will be joined by John "Greg" Mitchell '67, Matt Malario '90, Michael Moffitt '91 and Candice Miller '04 as inductees into the Hall of Fame.
"I was fortunate to play for four years on teams with players who had incredible talent. That was a big enough honor for me," John said. "To have my plaque placed alongside the plaques of many of those guys is unbelievable."
John said he almost quit before the start of his senior year because he wasn't having fun playing. But after talking to Coach Don Schaly, who is also a member of the Hall of Fame, John decided to play that final year. And he's thankful every day he did.
"My senior year is the only reason I will be receiving this honor. Coach had seen fit to put me in the four hole," John said. "Now, there was nothing in my history to make anyone think I could be a cleanup hitter for the No. 1 team in the nation. I had never hit higher than seventh in my career but on the second day of the 1985 season there I was hitting in the four hole. I realized early on in that senior season that I was hitting way above my abilities, but it didn't take me long, once I sat down and thought about it, to figure out why that was. The five reasons were (Monte) Duncan, (Bill) Varley, (Jeff) Wiktorski, (Jon) Finke and (Mike) Brandts. Coach put me in the enviable position of hitting right in the middle of that talent."
The induction ceremony is the highlight of Winter Weekend, but the Department of Athletics is also honoring the 40th anniversary of the 1974-75 basketball team's conference championship and appearance in the NCAA Tournament, as well as the 1989-90 women's basketball team, which enjoyed the greatest season in school history with a 20-7 record.
The Hall of Fame ceremony begins at 7 p.m., Saturday, Jan. 24, in the Dyson Baudo Recreation Center. The basketball teams will also be in action against OAC rival Heidelberg. The women play at 1 p.m. and the men at 3 p.m. Tickets for the ceremony and dinner are $25 and can be purchased through the Department of Athletics by contacting Wendy Thieman at (740) 376-4665 or thiemana@marietta.edu. Online registration is also available at: https://secure.touchnet.com/C23012_ustores/web/store_main.jsp?STOREID=14.
Greg Mitchell '67 — Track & Field
Greg Mitchell, a four-year letter winner, was an All-American discus thrower in 1967 after placing third at the NCAA Tournament.
"I was very lucky to have a school that allowed me to follow my dreams with track," he said. "My goals at Marietta were to win the conference at least twice, set a school record in the discus, win at a national meet, win the Division III national meet and compete in the national Division I meet."
Greg accomplished many of these goals, including getting an opportunity to go head-to-head against some of the best discus throwers of the time — Al Oerter and Jay Sylvester.
Greg held the College record in discus at 160-feet and 11 inches until 2012 when Gaston Hayes eclipsed the mark. He was captain from 1965-67 and was All-OAC in 1965 and 1967 when he won the discus event with throws of 148-4 and 157-11.
"I am extremely grateful and humble to have been chosen to the Marietta Hall of Fame," Greg said. "It's one accomplishment that I hadn't foreseen, but I am delighted to have the chance to represent Marietta College in such an important manner. My years at Marietta are some of the best years of my life, and I treasure each moment there."
Greg and his wife, Sherry, live in Toledo, Ohio, and he retired from coaching and teaching in 2010. They have one adult son, Jan Mitchell, of Sciota, Pa. Greg also worked as a trainer and equipment manager for two high schools — Rogers High School and Libbey High School — until 2010.
John Hefner '85 — Baseball
Born and raised in Parkersburg, W.Va., John Hefner didn't have to go far from home to make an impact on the baseball diamond.
John earned three varsity letters for the Etta Express and was part of the 1983 NCAA Division III National Championship squad. He is tied for the most singles in a World Series game with five in 1985, and he is tied with the most singles overall in a World Series with 12 in 1983 — the same year he was named to the World Series All-Tournament Team.
The 1985 season was John's breakout year as he led the conference in batting average at .416 and RBI with 63. He was named All-OAC, All-Region and All-American.
John was a 2014 inductee into Marietta College's Petroleum Engineering and Geology Hall of Fame. He earned a Master of Science in Petroleum Engineering in 1992 from the Colorado School of Mines.
He is the owner of Blue & Gray Resources, Inc. He and his wife, Kris, live in Parker, Colo. They have two sons, John, 20, and Bryce, 18.
Matt Malario '90 — Baseball
Matt Malario, who earned four varsity letters while playing for Coach Schaly, finished the 1990 season with a .457 batting average (which still ranks fifth best all-time at Marietta) and earned second team All-America honors. He was named third team in 1989 and was first team all-region in 1989 and 1990.
Matt was a member of the 1988 team that finished third in the nation and he was named captain of the 1990 squad. Prior to arriving at Marietta, Matt was an all-state player from Connecticut and an all-city football player.
He is currently the Business Development Officer of the commercial sales division for Stewart Title, the nation's third largest title insurance company. Matt's client list includes some of the largest developers in the world, including Transwestern, HINES and Trammell Crow.
Matt is also PGA Professional at River Oaks Country Club in Houston, Texas. He has been nominated as one of GOLF Magazine's Top 100 instructors in America five times.
Matt and his wife, Otilia, live in Katy, Texas, with their daughters, Julia, 12, and Diana, 10.
Michael Moffitt '91 — Tennis
Michael Moffitt, a two-time Academic All-American, enjoyed one of the greatest tennis careers in Marietta history.
Michael finished runner up at No. 1 singles (1991) and runner up at No. 1 doubles (1990) — with partner Tim Ranson — in the OAC Tournament. He earned four varsity letters and was the captain of the team all four seasons from 1988-91.
The McDonough Scholar graduated Phi Beta Kappa and was Valedictorian of the 1991 graduating class. After Marietta, Michael graduated from Harvard Law School and is currently the Dean and a professor at the University of Oregon School of Law.
Michael and his wife, Jamie, live in Eugene, Ore., with their daughters, Sander, 13, and Spencer, 10. Michael is a member of Marietta's Board of Trustees.
Candice Miller '04 — Softball
Candice Miller, a two-time All-OAC pitcher for Coach Jeanne Arbuckle, was one of the more dominant pitchers in the conference in the early 2000s.
Candice finished her career with 41 victories — 19 of those were shutouts — with an ERA of 1.69. She earned a varsity letter all four years and was named second team All-Region in 2001. She also earned the Betty Cleland Award during her senior season.
Her only career no-hitter came in 2003, which is also the same season she had a 1.30 earned run average — third best in school history. In 2001, she was a workhorse on the mound. She pitched 155.3 innings and racked up 167 strikeouts — which places her third on the all-time Pioneer rankings.
After graduating with a Bachelor of Arts in Marketing, Candice entered the management-training program with Enterprise Rental. Eventually she returned to school and earned a degree in petroleum engineering from Louisiana State University. She is currently employed as a drilling engineer at Newfield Exploration in Tulsa, Okla.