College conducting three open houses for high school students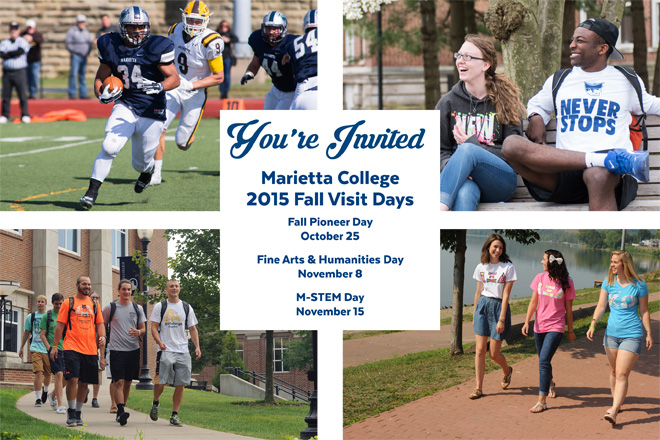 Marietta College's Admission Office has recently announced its open house schedule for the 2015-16 academic year, and it kicks off with a Pioneer Day — general open house — on Sunday, Oct. 25.
The first open house will run from 9:30 a.m.-1:30 p.m. Prospective students can register for open houses online at www.marietta.edu/open_house or by calling 1-800-331-7896.
An open house is a great opportunity for high school students to learn more about the College's academic offerings, as well as other areas like athletics, clubs and recreation.
Marietta College, which is ranked fifth in the Midwest by U.S. News & World Report, has a Fine Arts and Humanities Open House from 1-5 p.m., Sunday, Nov. 8. This session is focused on students who are interested in the College's music, theatre or art programs — which include majors in Studio Art, Music, Music Education, Theatre and Vocal Performance. There will also be time to look at the College's humanities majors — Asian Studies, English, History and Spanish, as well as the minors for this area of study.
The final fall visit day that is open to all high school students is the Marietta Science, Technology, Engineering and Math Day, from 10 a.m.-2 p.m., Sunday, Nov. 15. Students can learn more about these STEM programs, while discovering the value of adding the College's liberal arts core to any of these majors.
Students interested in majoring in Athletic Training, Biochemistry, Biology, Chemistry, Environmental Science, Geology, Health Science, Mathematics, Petroleum Engineering or Physics should consider visiting campus on this date.