College connecting freshman class with city during first ExplorETTA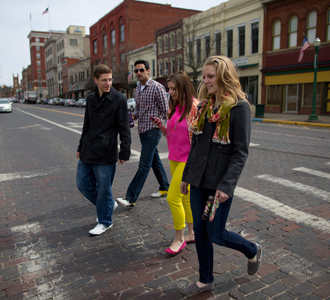 Marietta College officials have added a new twist to Orientation Week that is designed to connect the Class of 2019 with the community at large.
From 1-5 p.m., Wednesday, Aug. 19, a majority of the members of the freshman class — which is approximately 310 students — will participate in ExplorETTA — a time that students will spend quality time downtown, meeting community members and touring downtown businesses on Front Street.
Erin Riordan-Dye, who coordinates the College's Welcome Week, said this addition was simply a no-brainer.
"One of the biggest complaints I hear from students is that they wish there was more of a connection between the College and downtown Marietta," said Riordan-Dye, Coordinator of Campus Involvement. "ExplorETTA was created to help bridge that gap and show students the opportunities and fun that await them beyond campus walls."
Riordan-Dye said she worked with Cristie Thomas, Civic Engagement Coordinator, and the program is now a reality. The Office of Civic Engagement and Office of Campus Involvement are co-sponsoring ExplorETTA.
"Cristie has coordinated this incredible event that showcases the best of what downtown Marietta businesses have to offer our students, and further builds their relationships within our tight-knit community," Riordan-Dye said. "It's a Welcome Week first and one that I hope becomes a tradition that all of our students can share in."
Thomas said students will go to the Cook's Shop as it hosts a Dorm Room Meals demo for 15 minutes and they will learn how to make a supermarket salad, microwave omelets and AeroPress coffee. Other stops will include a meet and greet in Harmar Village where students will get light refreshments and meet the business owners, attend a local reception in the Armory Lawn with Mayor Joe Matthews and drink root beer made by The Marietta Brewing Co.
Also, the Castle Historic House Museum will host games and historic artifacts on the Armory lawn.
"ExplorETTA is an event that came together through a number of on-campus and off-campus partners wanting to strengthen the relationship between our first-years and our community," Thomas said. "We live in a beautiful, historical town, the Pioneer City, and our students have an amazing new home to call their own for the next four years. We want them to be rest assured of that as soon as they get here, and by meeting a number of community partners and generous downtown business owners, individually getting to shake the hand of our Mayor, and taking photos of the breathtaking landscape to win donated prizes, I know they will sink their heels in."
Thomas said they are working with ClutchMOV to do an Instagram Photo Contest. Students must find and take photos of at least five items on a list they are provided during ExplorETTA, as well as get a picture of their favorite storefront downtown. The students will then post the photos on Instagram and tag them with #explorETTA, #liveloveMOV and #MC2019 for a chance to win one of eight gift certificates to a downtown Marietta store.