College expects 300 volunteers for annual Make a Difference Day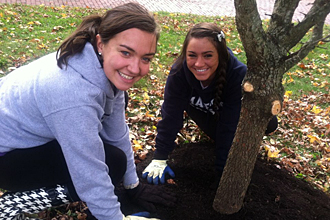 On Saturday, Oct. 26, Marietta College will once again be part of a worldwide mission to improve the lives of others in Make a Difference Day, the largest day of community service in the nation.
Make a Difference Day will be coordinated by the McDonough Center's Office of Civic Engagement, now led by new director Maribeth Saleem-Tanner. This will be her first time experiencing Make a Difference Day. Saleem-Tanner has organized other national days of service in the past, but says this one is unique because of its "scale and scope" —more than 300 volunteers will be sent to 20 different service sites.
"I think sometimes people imagine that you really have to convince or cajole students to volunteer and get involved, but that hasn't been my experience at Marietta at all," Saleem-Tanner said. "Students want to be engaged, and seeing their desire to be out in the community is exciting."
In addition to the OCE, several student organizations have planned projects for Saturday, including Alpha Tao Omega, Cross Country and the Psychology Club. Twelve of the 20 projects have been planned by members of the newest cohort of students in the McDonough Leadership Program through the LEAD 101 classes.
Megan Hendrich '17 (Ravenna, Ohio) belongs to one of the LEAD 101 groups whose duty is to help organize the Ely Chapman Foundation annual book drive. In addition to helping organize the hundreds of books that will be given away, Hendrich said her group will act as leaders for the 60 volunteers that will be helping. She hopes the experience will help her hone her skills in leading large groups of people.
Additionally, Hendrich said she is glad to have the opportunity to help Alice Chapman, founder of the Ely Chapman Foundation.
"If Alice didn't have us, the job would take a lot longer," Hendrich said. "It's always nice to help the community."
The OCE has several lasting partnerships with other community organizations that appreciate the extra help. One of these is the Wood County Habitat for Humanity, where students will come to build housing for underprivileged families.
Habitat's Executive Director Alvin Phillips said he is excited to work with the students and plans to talk to them about the holistic, long-term impact of their service. Phillips said he wants them to leave "with a feeling of accomplishment" and know that their help really does impact what Habitat for Humanity does.
"Marietta College has always been a really good partner with us," he said. "We're glad that we can help them and they can help us."
Saleem-Tanner hopes that Make a Difference Day is just the beginning of a legacy of service for the students involved.
"One of the most impressive aspects of Marietta College is the commitment of it and its students to participate in the world beyond the campus," she said. "To me, Make a Difference Day is a way to truly put that commitment into action."
Students wanting to volunteer for Make a Difference Day can check in at the Kremer Amphitheatre at 8 a.m. Saturday to be assigned a service site. The OCE will be giving away T-shirts to the first 400 volunteers.