College Factual ranks Marietta Petroleum grads as top earners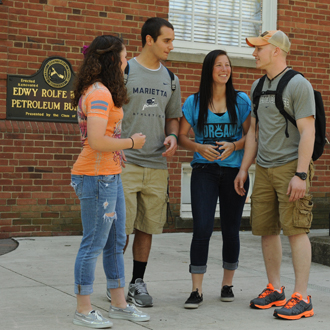 Marietta College is ranked the best among the top 50 colleges and universities whose engineering graduates earn the highest salaries nationwide, according to College Factual.
College Factual, a new site that uses customizable, outcome-based tools and rankings to guide students through the college selection process, ranks Marietta ahead of Harvard, U.S. Naval Academy, Princeton and Yale.
The average starting salary for a Marietta Petroleum Engineering graduate is $89,031. The average mid-career salary is $156,292. According to College Factual, the average starting salary for engineering graduates is $57,631 and average mid-career income is $97,683.
Rounding out the top 10 among highest paid engineering graduates is New York University, Columbia, Stanford, Brown and California-Berkeley.
"Seeing Marietta College ranked at the top of this list ahead of schools like Harvard, Cornell and Stanford is certainly gratifying and speaks volumes about our Petroleum Engineering program," said Dr. Bob Chase, Chair of the Department. "Our students get a well-rounded education in the liberal arts to complement their technical engineering education. That combination can pay dividends especially at the mid-career level where soft skills are so important. Students also benefit from our small class sizes and the opportunity they have to interact with a great group of faculty that bring both industry experience and education to the classroom."
According to College Factual, Marietta College's rank reflects the school's ability to graduate highly prepared students into the job market; an important outcomes based factor higher education programs.
Marietta College credits its liberal arts base as a key factor — Marietta's Petroleum Engineering program is the only one in the nation at a liberal arts institution.