College to honor Dr. Krause '47 at 180th Founders Day celebration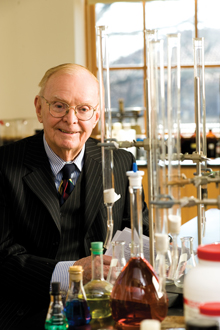 There are few alumni who are as notable or who gave back as much to Marietta College as Dr. Richard M. Krause '47.
Because of Krause's distinguished career as well as his close involvement with Marietta College, he will be honored at the school's 180th Founders Day ceremony on Thursday, Feb. 12. The program begins at 7 p.m. and also includes the acknowledgement of a handful of faculty awards.
A major part of the tribute will come from one of Krause's colleagues and a long-time friend, Dr. David Morens. A Senior Advisor to the Director at the National Institute of Allergy and Infectious Diseases, National Institutes of Health, Morens will give the keynote address.
Dr. Mark Miller, Interim Vice President for Academic Affairs and Provost, said the College had planned on dedicating Founders Day to the life and legacy of Richard Krause even before his death.
"Our invited speaker, Dr. Morens, spent many years working with Dr. Krause at the NIH. In addition to this, Dr. Chaya Chandrasekhar will be talking briefly about the Krause art collection — some of which will be on display at the reception following the ceremony," Miller said. "The extended Krause family has been associated with Marietta College for over a century, and we look forward to continuing this connection well into the future. Many of Dr. Krause's family members and friends will be present at the ceremony. We are very pleased to be able to honor him in this way."
Morens' career interest for more than 40 years has focused on emerging infectious diseases. He is past President of the American Epidemiological Society and in recent years he has published and spoken on numerous aspects of the history of infectious diseases and of epidemiology and public health.
Morens will present a talk on the threat of emerging infectious diseases both historically and in the modern era. He will discuss specifically the many challenges of several infectious diseases and explain the measures being taken to control and prevent them by organizations such as the NIH.
Because Krause spent so much of his career addressing emerging infectious diseases, in multiple fields including public health and epidemiology, Morens' talk will include acknowledgments of what Krause did and thought, who he influenced, and his impact on the field.
Krause died Tuesday, Jan. 6, 2015, after a short illness near Washington, D.C. Due to his unexpected passing, this year's Founders Day will strive to commemorate the life and legacy that Krause is leaving behind. 
While at Marietta, Krause focused on mathematics, science, history and literature, including all the plays of Shakespeare. After Marietta, Krause graduated from medical school at Case Western Reserve in 1952.
He always credited his undergraduate experience as the best preparation for medical school. "I firmly believe in the value of the Bachelor of Arts Degree (the liberal arts). It is essential preparation for a medical career. In a sense, the human condition — in all its aspects, in sickness and in health — is the domain of medicine."
During medical school, he took 18 months off and worked with the late Dr. Charles H. Rammelkamp of Case Western on the prevention of rheumatic fever by early treatment of streptococcal sore throat with penicillin. Also, for a period of about four months during World War II, he worked in a venereal disease control program as a medic in the U.S. Army.
From 1975 to 1984, Dr. Krause was the director of the National Institute of Allergy and Infectious Diseases (NIAID), where he developed new research initiatives in microbiology and immunology. Responding to the emergence of the AIDS epidemic, he organized field studies in Haiti and Zaire in a search for the origins of the virus.
Krause's work was seemingly endless — from Congressional testimonies to justify increases in the NIAID budget, to promoting public awareness concerning AIDS and HIV.
In 1989, Dr. Krause returned to the National Institute of Health as senior scientific advisor in the Fogarty International Center, where he was actively involved in international health issues such as AIDS and emerging infectious diseases.
Krause never forgot his hometown or his alma mater. He donated a good portion of his art collection to Marietta College, which has benefitted the Art Department. He also honored his parents by establishing the Ellis L. and Jennie Mae Krause Memorial Scholarship Fund and later the Ellis L. and Jennie Mae Krause Lecture in Science.