College honors 90 years of forensics at Wilcox Invitational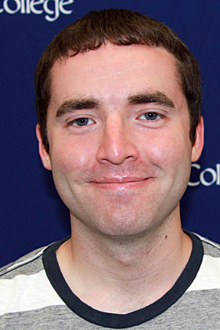 What the 65th annual Wilcox Forensics Tournament lacked in pizzazz, it more than made up for in the appreciation of recognizing 90 years of forensics at Marietta College.
Teams from 15 schools, representing four different states, competed on Marietta's campus on Nov. 1. Twelve different speaking and oral interpretation events were held, including the recently added improvisational duo.
More than 60 competitors and judges came to campus and an additional 30 alumni students, faculty, and staff participated in the event. 
"It was a very communal event, with individuals from the community and College faculty willing to donate their time to be judges of the events and student volunteers willing to help throughout the whole day," said Dr. Jamie Moshin, Interim Director of Forensics.
Dr. Marby O'Donnell, who coached the forensics team for 40 years, presented an address at the awards ceremony. O'Donnell is an Emerita McCoy Professor in Communication and Hillyer Professor in English Literature, Rhetoric and Oratory.
"The address was very timely, commending and noting the importance of longevity of forensics," Moshin said.
Marietta had a relatively small showing at the tournament but was rather successful. Ryan Childers '16 (Vincent, Ohio), Elaina Eakle '16 (Whipple, Ohio), Elizabeth White '16 (Crooksville, Ohio) and Latrice Nelson '18 (Austintown, Ohio) represented the Pioneers.
Eakle and White placed sixth in Dramatic Duo, and Childers placed second in Impromptu, his best finish to date.