College honors Psychology student with Evans Internship Award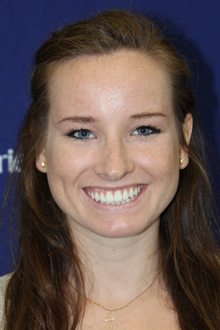 Marietta College's Eileen Walsh '16 (Marlton, New Jersey) never questioned whether she wanted to work as an intern at InterPublic Group this summer. Her concern was if she could afford to live and work in New York City.
Between rent and other expenses that are much higher than what she is accustomed to paying Marietta, Walsh was not sure if she could take the internship.
Thanks to the Robert Evans Internship Endowment Award, Walsh is currently a Leadership Development intern with the global marketing company based out of Manhattan, New York.
"This internship is paid, but the pay would not come close to covering the cost I need to pay for a three-month apartment," said Walsh, who was treasurer of the College's Psychology Club last year. "Receiving the Robert Evans Internship Endowment is a huge factor in making my dream internship a reality."
Denise and Mike Salvino '87 established the Evans Internship in the spring of 2010 through a gift to honor Evans and recognize his substantial contributions to Marietta College and the McDonough Leadership Program. The program awards $5,000 to one qualified rising junior or senior who participates in an approved internship in a for-profit organization, specifically a major national or global organization.
The $5,000 can be used for relocation, travel, housing, meals, related equipment purchases and other living expenses. Eligible applicants can be in any undergraduate major with a minimum GPA of 3.0.
Walsh is doing her internship with Marietta alumna Saira Khan '08, who has since earned a Ph.D. in Applied Organizational Psychology.
"I have thought in depth about working as an (Industrial/Organizational) psychologist since declaring my major two years ago," said Walsh, who is currently president of Alpha Xi Delta. "I hope to learn about everything that being a leadership development specialist entails. By the end of the internship I hope to have a better idea of what path I want to take after I graduate from Marietta."
Dr. Christopher Klein, McCoy Associate Professor of Psychology, said Walsh is a deserving recipient of this honor.
"She is such a hard worker, and is a terrific ambassador for the college. Eileen is a highly motivated student, and excels at combining her interests and strengths in Psychology, Leadership, and Economics to make the most of her experiences during her time here," Klein said. "Through her coursework, internship experience, and study abroad in Croatia, Eileen has gained a much more broad perspective on the world, and how she can help change it for the better. I know this award will help her achieve her goal of making the lives of those less fortunate better, and I can't think of a better choice for this honor." 
Walsh is the sixth student to earn the internship endowment.
"Applying for this internship, I researched about the company and field. Currently I am searching for the best deal on a living space. Once I have that figured out I can focus on learning more about IPG specifically," Walsh said. "I also want to review my own education and think about how I can bring that knowledge to the projects I will help with."
Walsh, who completed an internship with Morgan Stanley last summer, is also a McDonough Scholar. That experience has also shaped her approach to school and work.
"When I chose to study psychology, I did not have a direct focus; I just loved the course material," Walsh said. "Everything I learned through the McDonough Leadership Program has attracted me to the path I am on now, and I am excited to think that I can combine the two areas of study." 
Dr. Gama Perruci, Dean of McDonough, believes the connection between Walsh and Khan — a McDonough Leadership alumna — is very meaningful.
"There is an element of mentorship in the relationship but within the context of a global organization with very complex processes. I think this will be a powerful experience for Eileen and will open up all kinds of opportunities that she never considered before," Perruci said. "We are all very excited for her and grateful for the donor who made this endowment possible. This internship fits very nicely with the spirit of the donor's wishes."
Hilles Hughes, Marietta's Director of the Career Center, said the College is fortunate to have an endowed internship program.
"It definitely proves that our alumni value the role experiential education plays in a contemporary liberal arts education," Hughes said.