College inducts four new members into Physics Honorary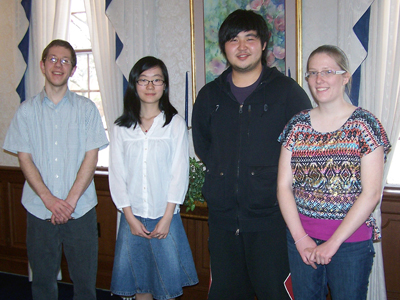 Marietta College's Department of Physics recently inducted four new members into its chapter of Sigma Pi Sigma, a prestigious national honorary.
The students inducted during the ceremony were: Laura Carpenter '14 (Pennsboro, W.Va.), Yang Jing '14 (Sichuan Province, China), Lin Su '13 (Beijing, China) and Vance Turnewitsch '14 (St. Clairsville, Ohio).
Jennifer Kachel '13 (Woodsfield, Ohio) and Shelby Lee '13 (Galloway, Ohio) led the induction ceremony.
Also in attendance were Drs. Ann Bragg, Craig Howald, Dennis Kuhl, Cavendish McKay and Whit Hancock, emeritus professor.
Sigma Pi Sigma honors outstanding scholarship in physics at the college level. To be admitted into the organization, candidates must be a physics major or minor with at least a 3.25 overall grade point average and a 3.00 grade point average in 16 credit hours of physics courses.
Founded in 1921, Sigma Pi Sigma is a member honor society of the Association of College Honor Societies. Having more than 75,000 members, Sigma Pi Sigma exists to honor outstanding scholarship in physics, to encourage interest in physics among students at all levels, to promote an attitude of service of its members towards their fellow students, colleagues, and the public, and to provide a fellowship of persons who have excelled in physics.