College moves International Week celebration to fall semester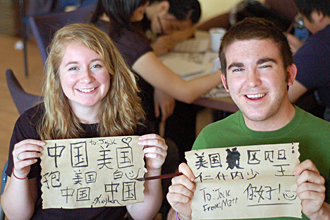 Marietta College's annual International Week has been moved to the fall semester to coincide with the national Week of International Education, which is sponsored by the U.S. Department of State and the Department of Education.
Typically conducted in the spring, the Department of Modern Languages, the Office of Education Abroad and the Office of Diversity and Inclusion are excited to invite the campus and community to experience the sights, sounds and tastes from around the world during International Week — Nov. 17-22.
Dr. Ena Vulor, one of the organizers, said International Week remains one of the ways the College reinforces its commitment to internationalization. It is a weeklong celebration through various events — presentations by students and faculty, music, international Café, Global Palate, and photo contests — highlighting various cultures outside the United States.
"With contributions from Political Science, Office of Student Affairs and Civic Engagement — we have a line-up of interesting, entertaining, as well as informative programs for the community," she said.
Education Abroad is conducting its International Photo Contest, which runs the entire week. Photos will be displayed outside Thomas 214.
"The photo contest is an opportunity for students and employees of the College to showcase their pictures from various international travel experiences and for international students to share images from their home country," said Christy Burke, Director of Education Abroad.
Burke's office will also host Global Gateways: Exploring China from noon to 12:50 p.m., Friday, Nov. 21, in Thomas 209. She said Global Gateways is a platform for returning study abroad students to discuss their experiences in another culture.
"We know students learn and grow from international travel and Global Gateways provides an opportunity for them to share that learning with our campus," Burke said. "This year Global Gateways will focus on China with two presentations — the experience and learning from a study abroad student who studied in Beijing this summer and highlights of the experience of several students who participated in a study tour entitled The U.S. China Student Summit."
Traditionally, Wednesday is the biggest activity day of International Week and this year is no different. Students and employees are encouraged wear traditional clothing from their home country and attend the International Café from 10 a.m.-1 p.m. in Upper Gilman. During this time there will be foreign language activities like learning to write and say your name in Arabic and Chinese and see poster presentations in Chinese, French and Spanish.
At 5 p.m. will be a Pizza & Politics on "The Ebola Outbreak in Africa: Is the World Doing Enough?" in Thomas 320.
"The Department of Political Science is pleased to offer a Pizza & Politics event for International Week on the Ebola Crisis in Africa," said Dr. Mark Schaefer, Chair of Political Science. "This outbreak is a case study in globalization, as the Ebola epidemic shows how small the world has become and how much we need cooperative policies to solve these increasingly collective problems."
On Thursday, Nov. 20, the Office of Diversity and Inclusion will host a Global Palate at 5:30 p.m. in the Andrews Hall Great Room. Presenting will be Alina Kielbasa '15 (Austintown, Ohio) — semester abroad in Fiji and Tuvalu — and Taylor Hanigosky '16 (Youngstown, Ohio) — service trip and internship in Ghana.
The week comes to a close with the Office of Civic Engagement hosting a Day of Thanks Community Service program that starts at 8:30 a.m.
"For our fourth and final campus-wide day of service for fall 2014, we are hosting an on-campus service project where students will be able to showcase their sincere gratitude and appreciation not only for our local community, but also for each other," said Cristie Thomas, Civic Engagement Coordinator. "We are very much looking forward to it."
Marietta College has celebrated International Week annually since 1995. All events are free and open to the public. To see other International Week events, please go to the Campus Calendar.