College names Waddle new football coach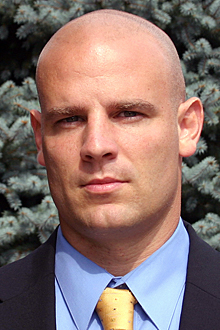 Marietta College Director of Athletics Larry Hiser announced the hiring of Andrew Waddle as the Pioneers' head football coach Wednesday afternoon.
"We are excited and honored to welcome Andy to the Marietta College family and community," Hiser said. "We were drawn to his impressive record of success as both a defensive and recruiting coordinator."
Waddle becomes the 29th coach in the program's 117-year history. The Pioneers played their 1,000th football game this past fall when they traveled to Baldwin Wallace in the eighth week of the season.
"Along with quickly understanding our campus community, Andy did an outstanding job of demonstrating his football knowledge and vision for our program," Hiser said.
With 10 years of collegiate coaching experience at three different institutions, Waddle brings a wealth of knowledge and a resume of success to the Pioneer program.
"I'm excited about what's going on at Marietta College," Waddle said. "The commitment the College and Mr. Hiser have shown the football program with things like Don Drumm Stadium and the weight room is what attracted me to Marietta. It will help us recruit quality student-athletes to an already strong curriculum. I am thrilled they chose me to lead Marietta football into a new era."
Waddle comes to Marietta after spending the last eight seasons at Wittenberg University. He joined the Tiger staff in 2005 as the defensive secondary coach and was promoted to defensive coordinator a year later.
Wittenberg won four North Coast Athletic Conference championships and made four NCAA playoff appearances in the seven seasons Waddle ran the defense. This past fall, the Tigers came from behind to defeat Heidelberg University in the first round of the NCAA playoffs.
Waddle's 2009 Wittenberg defense led all divisions of the NCAA in total defense and scoring defense. The Tigers allowed opponents just 189.9 yards and 8.85 points per game as Wittenberg tied the school record for wins with 12.
Waddle began his coaching career in 2003 at Mansfield University (Pa.) as the defensive backs coach. The NCAA Division II Mountaineers went 8-3, a six-game improvement over the previous season, and recorded the first winning season in nearly 30 years.
In 2004, Waddle moved to Division III Maryville College (Tenn.) where he coached the defensive secondary. The Scots improved dramatically winning as many games in 2004 as they had in the previous three seasons combined. Defensively, Maryville made a 17-point and 140-yard per game improvement.
An All-NCAC defensive back, Waddle played for two North Coast Athletic Conference championship teams and made three NCAA playoff appearances at Wittenberg. He spent two seasons at the University of Findlay prior to transferring to Wittenberg. Waddle was red-shirted during the Oilers' 1997 NAIA national championship season and was a starter the following year.
Waddle received a Bachelor's of Arts Degree in Sociology from Wittenberg University in 2003. He is currently pursuing a Master's Degree in Health and Wellness from Liberty University.
A native of Enon, Ohio, Waddle and his wife Kerry Jean are involved with the Be The Match Bone Marrow Registry and have raised nearly $20,000 while registering 1,000 potential bone marrow donors.