College to present 7th annual Christmas with the Concert Choir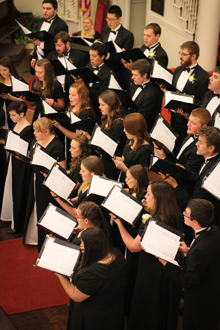 Marietta College's seventh annual Christmas with the Concert Choir and Orchestra is going to have a couple new twists on Dec. 13.
Concertgoers will be treated to the same, high-quality Christmas music of past performances as it begins at 7:30 p.m. in the beautiful Basilica of St. Mary of Assumption. But this year the new Marietta Children's Choir will join the College's Choir for a few songs.
The Children's Choir has 32 local kids from grades fourth through sixth, who have been practicing since September. The Children's Choir, which is under the direction of Scott Rieder, will have its own Christmas performance at 6:30 p.m., Thursday, Dec. 3, at Christ United Methodist Church in Marietta.
This year's concert will also be the first time it is televised live on the Internet. The College has partnered with Suddenlink Communications, who will produce the video portion of the show. Alumni and friends of the College who can't attend in person can watch it live that night at www.marietta.edu/ChristmasConcert.
Suddenlink customers will also be able to watch the performance on Channel 2 starting at 6 p.m., Sunday, Dec. 20. It will also be shown at 6 p.m., Thursday, Dec. 24, as well as 8 a.m., noon, 4 p.m. and 8 p.m. on Christmas Day.
Dr. Daniel G. Monek, Chair of the Department of Music at Marietta College, is excited that more people will get a chance to see the talented students who comprise the Concert Choir and Orchestra.
"We are pleased that we have worked out this arrangement with Suddenlink and we hope this becomes a tradition for Christmas with the Concert Choir," he said. "The choir members raise all of the funds for the concert. The choir views this as their gift to the community for the support they receive all year long."
The concert will include performances of Song of the Pines, Hark the Herald-Angels Sing and Let There Be Peace on Earth.
The concert also includes opportunities for the audience to join in singing several well-known carols. The program will close with what many consider the "most special part of the concert.
"We will close with the choir and audience — usually around 700 people — singing Silent Night a cappella by candlelight," Monek said.
The concert is free and open to the public, but donations will be accepted.