College to present annual Fall Band Concert on Nov. 17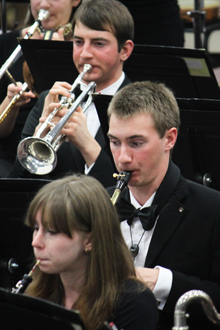 Marietta College's Music Department will conduct its annual Fall Band Concert at 7:30 p.m., Tuesday, Nov. 17, on Fenton Court.
This year's concert is called, "Sounds of Stage and Screen," with all music being performed representing music from Broadway musicals, ballets, operas, movies, and television.  Many the melodies the audience will hear will be familiar as many are used on miscellaneous television shows, movies and commercials. and will explore music based on classic pieces of literature such as Moby Dick and Aesop's Fables.
Under the direction of Marshall Kimball, the Marietta College Symphonic Band and Wind Ensemble will perform the concert.
"There is something on this concert for everyone," said Kimball, Director of Bands and Instrumental Activities. "From the foot tapping march, Colonel Bogey, which is the theme from the World War II movie, Bridge On The River Kwai to Danse Bacchanale from the opera Samson and Delila, the melodies will be recognizable and bring pleasant memories to all the members of the audience."
The concert is free and open to the public. For more information: (740) 376-4696.