College presents faculty, staff awards at annual Founders Day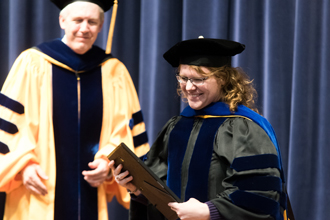 This year's Founders Day followed in tradition by honoring esteemed Marietta College faculty and staff on Thursday, Feb. 18.
In total, 18 of the College's faculty and staff were honored for their contributions to Marietta College and its students.
Dr. Paul Daniell, Assistant Professor of Petroleum Engineering and Geology, and Dr. Kimberly Suzanne George Parsons, Assistant Professor of Biochemistry, were honored by receiving the John G. and Jeanne McCoy Teaching Excellence Professorship. Established in 1993, the award is presented to a Marietta College instructor following an intensive scrutiny of the nominees' teaching portfolios and classroom visitation by an external selection team drawn from private colleges across Ohio. 
Dr. Alicia Doerflinger, Director of the Honors Program and Investigative Studies and Associate Professor of Psychology, and Jaclyn Schwieterman, Associate Professor of Athletic Training and Head Athletic Trainer, were both the recipient of the Edward G. Harness Outstanding Educator Award.
Since the honor is the highest award voted on by Marietta College faculty, Schwieterman said she is particularly humbled.
"As a beginning faculty member seven years ago, I never thought I would receive an award like this," she said. "It is great to know that other faculty value and support the work I have done in my last seven years." 
Joe Hohman, Assistant Dean of Students, Ann Nicely, Director of Alumni Engagement, Dr. Carole Hancock, Associate Professor of Education, and Dr. Jacqueline Khorassani, Professor of Economics and Chair of the Business & Economics Department, were all honored for their devoted and invested service. Hohman and Nicely received the Douglas Putnam Collaborative Staff Service Award, while Hancock and Khorassani received the Douglas Putnam Faculty Service Award. 
The awards, established in 2001, recognize individuals who have served the College in extraordinary ways. These are acts that go beyond the normal expectation of service to the department or campus and include volunteer actions where the faculty member has taken on a task beyond the job expectations.
For her excellence in teaching innovation, Dr. Kathryn McDaniel, McCoy Professor of History, was awarded the aptly titled Innovative Teaching Award.
Dr. Robert McManus, McCoy Associate Professor of Leadership Studies and Communication, and Dr. Gama Perruci, Dean of McDonough Center and McCoy Professor of Leadership Studies, were bestowed with the Research Award to honor the publication of their book Understanding Leadership: An arts and humanities perspective. Established in 2003, the award recognizes faculty members for significant contributions to their discipline, typically through a refereed publication or juried creative product.
Advising Award honors went to Dr. Chris Klein, McCoy Associate Professor of Psychology, Dr. Dawn Carusi, Associate Professor and Chair of the Department of Communication Studies, Dr. Liane Gray-Starner, Associate Professor of Communication Studies, and Dr. Alane Sanders, Associate Professor of Communication Studies. Established in 2004, the award is given to faculty members who demonstrate quality advising in the areas of mentoring students in their transition to college, helping students with selection of courses, their major, career, and life planning.
Because students voluntarily submit nominations, Carusi sees the designation as the highest honor.
"Mentoring students in and out of the classroom is not only the most important part of my job, it's the most enjoyable," she said. "It's why we are here. I'm proud to work at a college with excellent colleagues who put the students' education at the center of everything they do."  
For her similar devotion to assisting students, Erin Riordan-Dye, Coordinator of Campus Involvement and Commuter Services, was the recipient of the Staff Award for Mentoring.
For their significant contributions through volunteer service, both Klein and Dr. Bill Bauer, McCoy Associate Professor of Education, were honored with the Marietta Community Leadership Award.