College ready for presentations during fifth annual All Scholars Day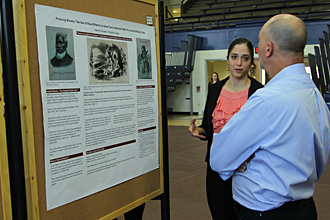 On a day when almost every class is cancelled at Marietta College, the value of learning and research is not overlooked.
Instead, the campus will be abuzz with academic discussions and presentations during the fifth annual All Scholars Day, which begins at 7:45 a.m. with registration and includes 140 unique presentations and exhibitions.
"I want to thank the scholars and mentors for the excellent work that they have done this year, and for sharing their research results, their class projects, their senior capstones, their experiential learning and their honors theses with us," said Dr. Suzanne Parsons, Director of Investigative Studies Program.
Poster sessions begin at 9 a.m. in the Dyson Baudo Recreation Center, along with capstone presentations by Math (Rickey 162), Political Science (Thomas 124) and Geology (Brown 103). The day also includes Physics Science Fun from 10 a.m. to noon in the Kremer Amphitheatre and a theatre performance at 7 p.m. in the Friederich Theatre.
All classes that meet more than once a week are canceled. Classes that only take place on Wednesdays are not canceled unless the professor chooses to do so.
The College will also host the annual Spring Honors Convocation as part of ASD. During the Convocation, which begins at 5 p.m., Marietta recognizes the accomplishments of more than 100 students with approximately 60 awards and scholarships. It will be held on Court No. 2 of the Recreation Center.