College receives $200,000 grant from Arthur Vining Davis Foundation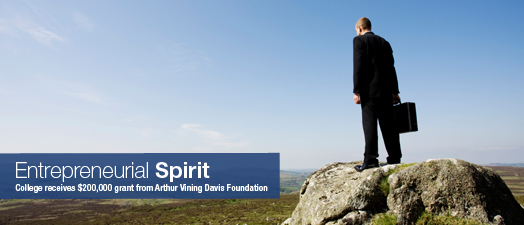 Marietta College President Joseph W. Bruno announced today The Arthur Vining Davis Foundations' Board of Trustees have awarded the College a $200,000 grant in support of the Appalachian Center for Global Entrepreneurship.
President Bruno said the grant will be used as seed money as College officials move forward with developing the initiative.
"We are very thankful to The Arthur Vining Davis Foundations for their strong show of support as we move forward with this new enterprise," President Bruno said. "The Global Entrepreneurship program is still in the developmental phase, so the fact the Board of Trustees at The Arthur Vining Davis Foundations could embrace our vision of the program and found it worthy of their investment is something everyone at Marietta College should be proud of today."
President Bruno has been working closely with Dr. Karyn Sproles, provost, in developing the entrepreneurship program. He expects the College will be announcing more details about the program during the 2014-15 academic year.
In announcing the grant, Nancy J. Cable, President of the Foundations, wrote, "In making this philanthropic gift to Marietta College, the trustees and staff of the Foundations honor your organizational strength, the quality and intention of your proposal, and your remarkable leadership. Given the quality of our partnership, we are committed to working closely with you to strengthen the impact of our philanthropic support."
The Arthur Vining Davis Foundations are a national philanthropic organization established through the generosity of the late American industrialist, Arthur Vining Davis. From their inception, the foundations have been strongly committed to the support of private higher education in America, with particular emphasis on private, four-year, residential liberal arts colleges.