College unveils new, mobile-friendly website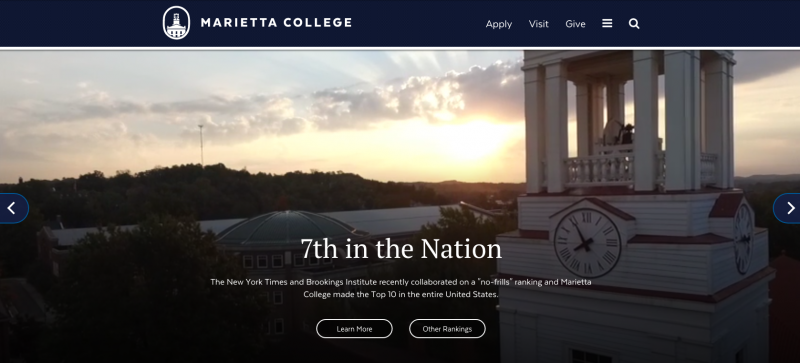 It's been a few weeks since students moved back to campus and the fall semester began, but today (Oct. 12, 2015) there's another renewed sense of pride and excitement in Marietta College with the launch of a redesigned central website.
The first phase of the site was officially unveiled today and it includes a new home page, as well as the same fresh approach to Enrollment and Academics. Our new site puts Marietta College on the leading edge of digital trends. The site was designed from a mobile-first perspective so users of mobile devices can easily access it. National research shows the next wave of students will be the first "mobile only" generation.
"I'm excited about the look and function of our new website — and, importantly, that we have our first mobile-friendly site, which is an crucial part of our enrollment strategy moving forward," President Joseph Bruno said. "We know our website is often the first experience people have with Marietta College, and it is important that it clearly shows what is great about Marietta."
The College partnered with KWALL , based in Newport Beach, California, to develop the Drupal-based site. Marietta is also working with Acquia, which provides a cloud platform for building, delivering and optimizing digital experiences.
"As we researched our options for doing this redesign, it became clear that many academic institutions of our size have turned to the Acquia platform," said Tom Perry, Executive Director of Strategic Communications & Marketing. "In our approach to content strategy and the development of the new Marietta.edu, we concentrated on helping our multiple audiences find the information they want — and guarantee that it is accurate and relevant."
The College created a Web Redesign Steering Committee in April 2015 and expected to spend the next 12 to 15 months researching and developing a new site. However, it became clear to the group that a change needed to occur much sooner. The College decided to do the redesign in phases. The second phase is underway and includes adapting the new approach to areas like Student Life, Alumni and other areas vital to the College's online presence.
"Recent research shows that more than 90 percent of prospective students use an institution's website as a primary point of information before making a decision on applying," said Ron Patterson, Vice President for Enrollment Management. "That's why we have decided to reinvent our site to focus mostly on what these high school students need to know about Marietta College to make an informed decision."
Therefore, the College has moved away from a site that was an information clearinghouse, to one that reaches its key audiences.
"We know this is a major change from what we have done in the past and from what many on campus are accustomed to in terms of our website," Perry said. "Our plan is to profile aspects of the campus, the community and the academic programs that will increase an awareness among our key audiences. We believe we are creating an innovative web experience that reflects everything that is good about Marietta College."
Part of the site's measurable goals are to push traffic to the Admission section, where future undergraduate and graduate students can apply to Marietta College, and to increase interest in the College's Giving section.
"We now have a site that is both dynamic and engaging — no matter what device you are using to explore it," Bruno said. "I'm proud of everyone who played a role in our new site. Their dedication and vision to what Marietta College needed are now benefitting us and represent the College well."