College upgrades mobile app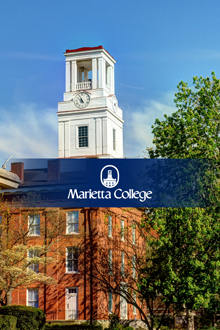 A new and improved Marietta College mobile app is now available for download on the Apple Store, Android and Amazon.
In addition to news, sports and events, the app also includes a virtual tour, campus map and important contacts across campus. Current students will also be able to manage their course by accessing their schedule and class resources, check their grades and get personalized announcements.
The app is a partnership with Ellucian GO, which allows the College to continue offering a seamless package of features that are for current students and employees only.
Here are some of the features:
News — Latest news from the College as well as The Marcolian.
Athletics — Get all of your news about the Pioneers.
Campus Calendar — Upcoming campus events.
Social Media — Connect to Marietta College's Facebook, Twitter and other social networking accounts.
Campus Map — Look up campus buildings and find your way around campus.
Prospective Students — Apply to Marietta College or use the friendly Financial Aid calculator.
Virtual Tour — Haven't been to campus in 30 years? Here's a way to see what's new without leaving your home.
Grades — Look up grades for current and previous semesters
The app is compatible with Android, iPhone, iPod Touch, Blackberry and iPad. To download go to an app store and search for Ellucian GO. Once you download the free app you can search for Marietta College in the navigation. Marietta College students and employees can log in for items like grades and courses, while the general population will have access to everything else without logging into the app.