College to welcome 300 to alumni ranks at 178th Commencement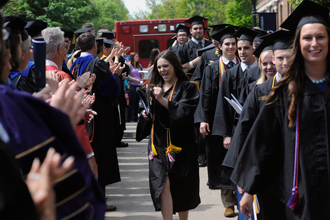 In less than one week, approximately 300 seniors will don their caps and gowns, preparing for that special moment when they get to turn their tassels and officially become graduates of Marietta College.
Though she's looking forward to this weekend, Kelsey Jeffery '15 (The Plains, Ohio) is also experiencing mixed feelings about what this Sunday will mean to her.
"It doesn't seem real that graduation is so close and that I won't be coming back in the fall," Kelsey said.
The thought of graduating with a degree in Biochemistry from Marietta brings about an old cliché to Brandon Stewart '15 (Delaware, Ohio).
"It's been said so many times, but the time really does fly by quickly," Stewart said. "I'm always so busy that I don't realize how 'old' I actually am and that I will be graduating with a bachelor's degree in a week! I don't feel that I have spent four years here or that it is time to graduate at all!"
For Stewart, receiving his diploma will be the most exciting part of the Commencement events. "It is symbolic of all the work and effort put in to the last four years," he said.
The 178th Commencement ceremony begins at 1 p.m., Sunday, May 3, in the Dyson Baudo Recreation Center, but special Commencement activities will actually begin the day before. On Saturday, May 2, students and their parents are invited to the annual Strawberries and Créme luncheon, from noon to 1:30 p.m. in the Dyson Baudo Recreation Center. The Baccalaureate service will follow, from 2 to 3 p.m. in Ban Johnson Field House, with an open reception for graduates and their families following at the President's House from 3:30 to 5 p.m.
For the graduating seniors, the week ahead will be one of celebration and congratulations, but it will surely also consist of reminiscing all of the great times and wonderful memories made while at Marietta for the past four years.
"If I had not made those friendships with that group of men, my Marietta College experience would have been very different," said Stewart, when talking about other members of his fraternity. "That is something I know I will miss."
Stewart, who will earn degrees in Organizational Communication and Public Relations, shared a similar sentiment.
"I'll miss seeing my friends every day and just going to Gilman to get dinner," Jeffery said.