College welcomes Class of 2017 during Matriculation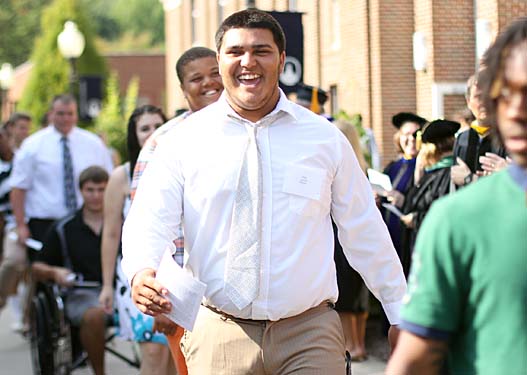 The Class of 2017 had barely settled into their seats at Marietta College's Fenton Court for the annual Matriculation ceremony when President Joseph Bruno clearly stated his expectations.
"These should be, and I predict will be, some of the most creative years of your life," said Bruno, who begins his second year at Marietta. "If you are used to teachers who give you problems to which they know the answers and wait until you reach the same predefined point … well, you may be in for a surprise from time to time."
While the more than 400 new students perked up and took notice, so did many of their parents who attended the afternoon ceremony on Friday, Aug. 23 — which was also move-in day for the freshman class.
Each one of the students who matriculated Friday also join The Long Blue Line by signing the historic and ceremonial books during the event in front of family and friends — as well as Marietta College's faculty.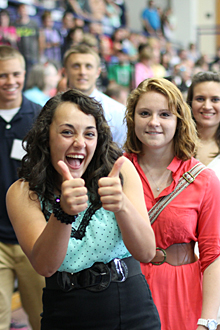 It was Dr. Karyn Sproles' first Matriculation at Marietta, and the Provost and Dean of the Faculty offered a different perspective on the College's fabled Long Blue Line.
"The Long Blue Line is not a straight line," she said. "It is more like a line of music, a line of poetry or a line of scrimmage. A line you walk every day on this campus."
Sproles also provided a little spark with her call-and-response tactic of six statements.
"Be brave! Be curious! Be creative! Be entrepreneurs! Be scholars! And most of all Be Pioneers!" she said.
The audience also heard from Dr. Matt Macatol '97, a member of the Board of Trustees, who was speaking on behalf of the Marietta College Alumni Association.
"I know you are probably saying, 'Are you kidding me the Alumni Association? I haven't even taken a class yet.' But let me assure that now is the perfect time," he said. "Here's the reason why: All too soon for most of you in four short years as a matter of fact you'll be preparing to leave Marietta College and not only wonder where the time went but whether there might not be an opportunity to prolong or extend that Marietta experience."
Student Senate President Jessica Johnson '14 (Johnstown, Ohio) also reminded the newest Pioneers to get out and discover what it means to be a Marietta College student.
"So in the next few weeks or months go out and explore what it means to be a Pioneer and see what Marietta College has to offer you," she said. "Join a club, take a political science class, go through Greek recruitment, participate in late-night Bingo, or cheer on the Pios at a sporting event. What I'm ultimately getting at is experience the community around you. There are so many opportunities awaiting you here to write your own stories and make your own everlasting mark at Marietta."
This marks the 11th consecutive fall the College has matriculated at least 375 new students, and the members of the Class of 2017 will study in one or more of the 44 majors offered at Marietta.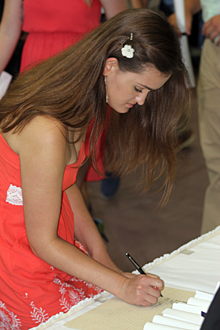 "I am fond of saying over and over again that it is a great time to be at Marietta and I sincerely believe that has never been more true than it is today," Bruno said.
Following the Matriculation ceremony, everyone in attendance was invited to a barbecue in the Dyson Baudo Recreation Center.
On Monday, Aug. 26, all classes begin for the fall semester. The College conducts a fall break from Oct. 5-8 and celebrates Homecoming from Oct. 11-13. The fall final exams are Dec. 9-13. The spring semester begins Jan. 13.
For those really planning ahead, Spring Break is March 8-16 and the 177th Commencement is on May 11.
2013 Matriculation Ceremony (photo gallery)
2013 Move-In Day (photo gallery)