Commencement Address 2014: Marcia Meyer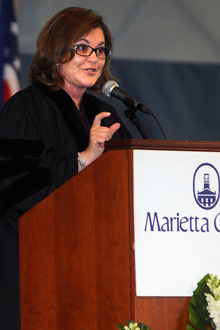 When it's up to you…..Be kind people
Marietta College Commencement address - May 11, 2014 
Marcia Meyer
It has been said that people rarely remember commencement speeches. Either the audience is nervous, pre-occupied, bored, hoping they will get home in time to catch the game on TV, checking Facebook, thinking about dinner.…or asleep. It's not an easy task to be more interesting than a trending You Tube video or sharing a prime rib with Mom tonight.  
Therefore, I'm going to try telling you what people are saying about all of you. I talked to people on the phone and checked out social media to find out about you. Let's face it…people always pay attention to rumors!
Marietta citizens, I hear you have a home-town feel, but you sure don't act like a small town. Within your boundaries, so much is offered that you can actually see a world of opportunity right from the confluence of two rivers. You embrace these students. And you have absolutely fabulous restaurants.
Administration and Board of Trustees, you blend tradition with innovation. You actually turn over leadership at times to allow growth for your faculty and students. You handle the financial pressures of sustainability that so many institutions of higher education face today with transparency and commitment. You respect diversity. And you listen.  
Faculty, I hear that you understand how to be relaxed – yet really know how to push. It's well known that you expect students to actually learn - and then use knowledge to stretch their critical thinking skills.You've been described as brilliant, invested in students, and supportive. I hear that you've been known to answer text messages at midnight and that it's sometimes like having a campus full of extra aunts and uncles with much you care.
Parents and families, I know that some of you are experiencing a first-time graduation ceremony. You might not have graduated from college, but you weren't afraid to pursue the dream of a college degree for your child. The word is out about you parents…you've sacrificed, supported, done laundry willingly, worked long extra hours, sent care packages with candy and cookies, and have endured long phone calls at all hours of the day and night. You are the rocks of support when things are tough and the beacons of light and hope when great things happen. Above all, you are loved.
Students, you're described as involved, big-hearted, hard-working, unique, and…shall we say… fun-loving. You voluntarily participate in things on campus…sometimes to the point that you're sliced pretty slim. You have no choice other than to learn how to manage time. You're competitive, yet also tight knit and united. You can honestly forget to eat or sleep…or study for a final. You're among the handsomest men and most beautiful women in Ohio…and maybe in the world. You know you will always find someone to talk to on the mall. Your Greek life is fun, meaningful, and enduring. And — you have your own campus rumor mill that's faster than any form of communication the administration could imagine.
The decisions all of you have made formed the basis of what people are saying about you. Think about it. Every day we have a series of decisions. In fact, the average human brain makes well over 5,000 decisions a day, which means there are around 5,000,000 decisions that will be made today from people in this room, including almost 300,000 decisions about food alone!    
We make decisions about what roads to take…what we say…how we do our job…what shoes to wear….what career path to follow…who to marry …and how we're going to treat people. I can't begin to talk to you about how to make many of those decisions. And, frankly, I can't begin to ask you to predict where your decisions will lead you.  
When I was a college student in rural Kansas, I would have considered Marietta a city compared to the town where my liberal arts college was located. I contemplated a major in music or in Spanish – and chose Spanish because I had a teacher in high school who told me I was pretty good in catching on to a second language…and I knew that my parents might let me leave Kansas for a year to study in Spain – as long as I worked on the farm every summer. You see, no one from our family had ever been out of the country; my parents wanted me to have something they had never experienced. I decided to use my college degree to teach in an inner city school, one that we would call "at risk" today. I had never been near an urban impoverished neighborhood before that school. Trust me..I learned words in Spanish that first year that were never taught in a Spanish grammar textbook!
I certainly didn't realize then that the creative leadership skills I learned while teaching would be the foundation for career change to management in the corporate retail industry. And I couldn't have imagined that another industry decision to move from merchandising the latest fashion silks to analyzing dog kibble would change my life. I didn't know the decision to work with a small pet company with only 12 stores at the time would allow me to help it grow to a multi-billion-dollar category leader that not only cared about things like cat toys, premium pet nutrition, and hamster wheels — but that also has helped define a new standard for how people can care for the pets in their families and has elevated the public awareness of the societal benefits of pet adoption. 
I didn't know that a holiday party I decided to have for a few friends would grow to hundreds of women and evolve into an entrepreneurial consumer goods company. And I didn't know that a decision to convince my husband that we needed to buy a school bus — just a little school bus — to deliver gifts of appreciation to teachers would result in igniting a non-profit that now encourages teachers and millions of students across the country.  
I had no idea that my life decisions meant I'd now be working harder after retirement than at any time in my life….or that my business experience would help develop a concept that would allow me to have a unique perspective on the social and emotional learning taking place in America's schools.  
I have thousands of pictures of kids whose names I don't know and who I'll never see again on my phone right now. In the past 96 hours alone, I've looked at the faces of over 3,000 kids in Phoenix, have heard them yell "thank you" in unison to their teachers, have realized that most of them may never be able to attend college, have greeted them with "Buenos dias" and "hola, chicos", have prayed they have something at home to eat this weekend, and have integrated culturally relevant forms of music in a learning model to help those kids make healthy inter-personal relationship choices.
I never knew the decisions I have made since college would coalesce at this stage in my life… almost taking me back to where I started.   
Here's what I do know about my decisions that I can share with you. I made them based on having no fear of trying something new. In each decision, I applied my previous experiences. I never closed a door on opportunity. I worked very hard to bring success to my circumstances. I take accountability for my decisions. I have never stopped learning, trying, or serving. And I have always based decisions on my values.   
WHAT you do will change in ways you can't predict. But WHO you are is up to you. And...as in the rumors I started out with today, WHO you are is so often what Impacts others. A big part of WHO you are is  based on your values---and those values impact your personal decisions.One of my personal values that makes me who I am is the choice to always show kindness to others.
Kindness is a force without force, and it goes well beyond manners to the very heart of how people honor, respect, communicate with, and treat one another.     Kindness isn't fluffy. I think most accurate definition of kindness is "intentionally extending good to others." And it's not just a random thought or a desire; it involves purposeful action. 
In our non-profit, we ask students to take The Be Kind Pledge, which is a way to help them focus on making decisions based on core human values. I'm going to ask the same of you today. It's a simple message – but it can lead to powerful decisions.
Now, if this were an elementary school, we'd have hip hop dancers here who are ultra cool, say "yo" and do crazy break dance moves to help students remember The Be Kind Pledge. Believe me, an audience really pays attention to what you have to say when you can spin on your head. Well, none of that is going to happen … the only way I'm on my head is if I trip while leaving.  
You're graduates … so use your skills and experience as you think about the life long decision values embedded in The Be Kind Pledge.  
The first attribute of The Be Kind Pledge is be encouraging.  It's a word – a smile – a cheer that shows you care about the success of others. Let's apply this one to Marietta to get us started on The Pledge. 
Stand up if you have participated in any form of competition or volunteer service in the name Marietta College during your college years. Athletes, speech and debate, writing, science competitions, community volunteers, and many more — someone has encouraged you along the way to be the best you can be. Let's all give them encouragement to keep on competing and serving.
Be supportive. Actually, everyone was very supportive in how you just encouraged this graduating class.  Being supportive is something you can do during good times or bad times.  We all need it.   It can be listening, understanding, a fist bump…or as simple as patience – or being quiet and not saying a word.
Be positive. Have you ever been in a room and someone walks in with a bad attitude? The whole climate changes. People walk on eggshells, eyes roll, you can feel tension. Well, don't be THAT person! Think about the effect of your attitude on others. How you perceive situations and approach things – even obstacles – will help to define opportunities for you. Plus, being a positive person is one of the most often-described attributes of WHO a person is. Believe me, this attribute will be evaluated in just about every job interview and job performance evaluation you'll ever have.
Be helpful. Helping involves giving. This is the foundation of volunteerism – of service – and of making a difference. Marietta College understands the importance of community service as well as anyone.   
There are people in this room who were very helpful in making today happen for you – your professors.
I think teachers are the everyday heroes across America. Their work is enduring and pays countless dividends to communities as they serve, inspire, and motivate our nation's youth.Actually, most adults can bring to memory and name at least one important teacher who has influenced his or her life. 
I'd like to take a moment to let you publicly acknowledge the faculty of Marietta College …and to also ask anyone who is or who has ever been a teacher — to also please stand.
Being honest is another component of The Be Kind Pledge. It means to live with integrity. Make your words and actions match. And never compromise WHO you are for WHAT you do.   
In The Be Kind Pledge, we also teach to be considerate, be responsible, and be respectful. These attributes form the fiber of civility in our society. Civility runs the gamut from how you drive on the highway…to words that you choose…to how you use leadership skills to make changes….to how you treat people in a restaurant …and even to when and how you use your cell phone.  Making responsible, respectful, and considerate decisions are at the core of realizing the effect of your actions on others.
The last two attributes of The Be Kind Pledge are my favorites. One is be thankful. We could talk about things we are thankful for all day long.  But do we make a decision to express our gratefulness to others rather than just talk about being thankful?
Today is Mother's Day. Graduates, as a mom, I will tell you very simply that the fact that you are here today fills maternal hearts to a level that truly overflows with joy. Today is a milestone day for your mom too. Moms, it was difficult for students in this class who I've talked with to articulate how vital you have been to their success. Their emotional connection and level of gratitude to you confirms that there is truly enormous strength in the gentle kindness displayed by mothers.  
The last attribute of The Be Kind Pledge is be a friend. Look around you, graduates. You are surrounded by friends. Friendship is one of the hardest things in the world to explain. Philosophers, poets, educators, and leaders have tried to express the importance of friendship in human society. Here's one I think expresses it best.
In the words of Mickey Mouse…"a friend is someone who you can talk to, who won't judge you, loves you for you, and most of all, makes you feel like you are worth something very special."
And so you have just gone through the ten attributes of The Be Kind Pledge. The Be Kind Pledge is really a promise – a promise to yourself — that you will be intentional about making decisions every single day that will extend good to others. Your kind decisions will multiply over and over and over again and effects you can never imagine.   
Marietta College, let me conclude by telling you what people are saying about this college. You feel like a giant hug. You're a community within a town. Growing in your relaxed environment is an explosion of creativity and service to others. You're a home away from home. Your seven core values are strong. You are the college version of "Cheers" — where everyone knows your name. 
You are encouraging, supportive, positive, helpful, honest, considerate, responsible, thankful, respectful, and you have helped build friendships that will endure for lifetimes. Marietta College, you are kind people.  
You care about each other, the community, and the world around us. You are all Marietta. And that makes you very special.    
And now, graduates….exciting life decisions await.  Make them with the confidence of being WHO you are. And please remember - when it's up to you…..be kind people.