Cooking 301 helps Brunos connect with student body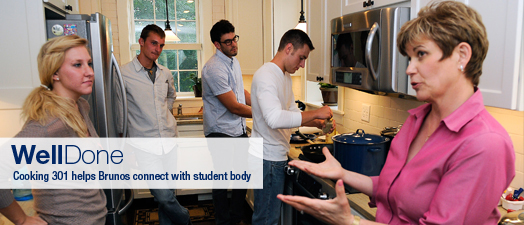 As he began opening the plastic container filled with salad greens and other toppings, Brett Notarius '14 (East Amherst, N.Y.) found just the right moment to confess.
"Dr. Bruno I should tell you that I may have dropped your name when I went to Gilman to get the stuff to make our salads tonight," he says. "And you know what, I think it really helped because we have enough salad for at least 10 people."
Joseph Bruno, Marietta's 18th President, didn't hesitate with his retort.
"I'm glad to see my name at least carries some weight at the dining hall," he says.
Actually, the Bruno name — which also includes Marietta's first lady, Diane Bruno — has resonated across the community and even more so with Marietta College's 1,430 students. By opening up their home for events like the Welcome Back Dessert and a gathering for their neighbors on Fifth Street, it seems everyone wants to get to know Marietta's first family.
While those events were well attended, the students are clamoring for a chance to sign up for Cooking 301: Dinner with the Brunos — which simply requires an email to Diane, who will confirm a date.
Brett, along with Cole Turner '14 (Wapakoneta, Ohio), Natasha Harrington '14 (Chillicothe, Ohio), Clay Ellenwood '14 (Belpre, Ohio) and Luke Badaczewski '14 (Gibsonia, Pa.), hold the distinction of being the first graduates of Cooking 301.
"Diane and I were delighted to welcome Luke, Brett, Tasha, Clay and Cole into our home. It was a joy to see their skills in the kitchen and to hear of their appreciation for each other and for the College," says President Bruno, who named the course after the address of the home (301 Fifth St.). "The food was great and the company even better, and we can't wait to have more student visitors join us for dinner."
The popular course, which doesn't equate to any credits toward graduation, but results in wide-ranging conversations and a meal purchased with $50 or less is cooked in the kitchen of the President's house. The students self select up to six and the Brunos personally reimburse them for the students' out-of-pocket expenses.
The Brunos originally planned to host students once a month, but it has now become a regular weekly occurrence.
"I think it's great that the president of our college really wants to meet the students in a personal setting like this. I think it really shows he has an interest to get to know each and every student here," Cole says.
Luke organized the first group and even got the recipe for his favorite sesame tofu from his mother.
"It's gone better than I thought actually … I've never cooked this meal," he says. "This is the meal that popped into my head because it's vegetarian. Cole, Brett and I are all vegetarian. It shows you can eat vegetarian without sacrificing a lot of good taste."
The meal also included corn on the cob, the aforementioned salad and brownies.
"We also have mashed potatoes and, well, some that aren't mashed," Brett says. "That didn't quite go as well as expected."
The student chefs develop an original menu for each meal, shop for the items and then bring everything to the Brunos to begin dinner preparations. Joe and Diane serve as the students' sous chefs.
"Neither Joe nor I know what's on the menu, so that's very exciting for us," says Mrs. Bruno. "The students have been considerate and have asked Joe and me if we have allergies or dietary restrictions or food preferences. We enjoy all foods and have no restrictions."
Diane says the goal of the program was to allow her and Joe to get to know the students in small groups, help the "chefs" develop some important life skills and experience foods that may be new to the students (and possibly even the Brunos).
"(The first Cooking 301) was a fun and enjoyable evening. There was a lot of energy, fun interactions and anticipation in the kitchen," Diane says. "The conversation in the dining room included discussing academic focus, family/background, aspirations after college, community gardens and composting (which we do)." 
After about 90 minutes of cooking and other preparations, the dinner party of seven finally sat down to enjoy the fruits of their labor.
"I did not expect to be here. Brett and them, are pretty good friends, they invited me to come along with them. I was happy too because I like to cook and all that stuff," Natasha says. "I don't know, you think president and you're not sure what it will be like. They're really nice people and I'm enjoying it."
So nice, the Brunos didn't make them do the dishes.
"I may have to rethink that in the future," President Bruno quips.