Dad Elliott was the Iron Horse of campus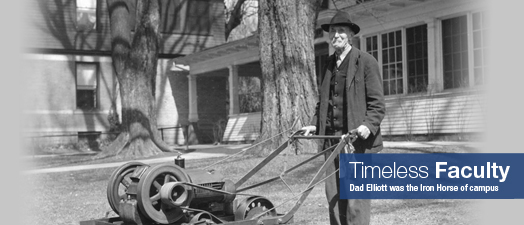 In the early 1900s, students entered the College chapel, housed on the second floor of Andrews Hall, only to find something that had become not so unusual waiting for them: President Alfred Tyler Perry's cow, Buttercup.
"Even Professor (H.L.) Coar's chickens have been to the college," recalled George E. "Dad" Elliott in his book, Dad Elliott's Memoirs. The book provided musings from his 50 years working at Marietta College as the Superintendent of Building and Grounds.
Dad Elliott was born George Edward Elliott on Nov. 26, 1857, to Mr. and Mrs. Archibald Elliott near Burlington, Iowa. By the time he reached 3 years old, his father, brother and sister had died, leaving just he and his mother to survive.
His mother traveled back to her home on Scotts Ridge in Washington County, where she remarried and raised her young son to be of high character and have a clear sense of right from wrong.
As a young man, Dad spent eight years at the home of Beman Gates. "Mr. Gates was the grandfather of the Dawes boys, so he had good training in handling boys before coming to Marietta College," recalled Sam H. Plumer 1895, who edited Elliott's memoir. It was Beman Gates who helped Elliott obtain a groundskeeper position at the College.
He began his duties at Marietta on March 26, 1893. His first job was to clean Andrews Hall. At that time, the Academy was larger than the College, the dormitory housed 38 men and it was heated entirely by coal fires.
"Dad had the longest tenure of any employee of the College," wrote Vernon "Dan" McGrew in his book, In the various branches of useful knowledge. "Israel Ward Andrews was here 49 years (1839-1888), 35 as president, and Lillian Spindler Sinclair for 49 also, all but a few as registrar. The longest term of a member of the faculty who taught full time was the 45 years of Professor Harla R. Eggleston (biology, 1915-60)."
During Elliott's five decades with the College, he was entrusted to care for the grounds, perform maintenance, and address many of the "extracurricular" activities students managed to fit into their down times. Retrieving cows from the second story of Andrews was just one of those tasks.
"The chapel in Andrews Hall was the place for the reception of the first cannon on the campus, when war was declared on Spain by the United States," Elliott wrote. "The students stole the cannon out of the city park, brought it to the College, mounted it in the chapel. Then the class of '98 mounted it on a cement slab and pointed it toward the Baptist Church. It remained there for a long time."
From that point on, the cannon was often the target of fraternities on campus, as it was stolen and buried in various locations on the grounds. The telltale signs of its new home was often a freshly dug grave.
"The old cannon should be on the college campus," Elliott wrote. "I'm still looking for it."
Elliott had close ties with the students. Though he kept close watch on their behaviors and made sure guilty parties were taken to task, he was described as a patient and fair man by students.
For Elliott's book, Plumer wrote an introductory and a chapter that included an interview of Dad by Plumer.
"The writer found him recently on the campus raking leaves, with much the same enthusiasm which he displayed in keeping things ship-shape when he came to the institution in 1893," Plumer wrote. "For awhile he had a room in the old dormitory where many of the students had rooms. These boys were a lively bunch, but 'Dad' got on with them fine."
Elliott left the dorm when he decided to get married on June 26, 1894.
"He wasn't known as 'Dad; in those early years, of course," Plumer said. "He was young then. That affectionate title just naturally took hold and clung with time."
During his time at Marietta, Elliott worked under six different presidents: John Wilson Simpson, Alfred Tyler Perry, George Wheeler Hinman, Edward Smith Parsons, Harry Kelso Eversull and Draper Talman Schoonover.
Elliott's memoir preserved some interesting and very personal accounts of events on campus by a man who was dedicated to caring for it.
"This is my forty-seventh anniversary working for Marietta College," Elliott wrote in his book. "It is a long time to look back to. There is no one about the College today that was here when I went to bed in the old dormitory in room number 16. When I woke up next morning I saw the sun coming up in the east. Little did I think I would be living there 47 years hence. Of all the boys that I knew there, some of them are dead; some I never heard of since. I have seen so many changes in the College, it seems like it is almost a new College. Things are so much different now than then, so many changes on the campus and in the buildings. Now, what of the future I have every faith that the Trustees, alumni, faculty, and students will carry on to bigger things."
After serving the College for 50 years, Elliott was urged to retire. On June 12, 1943, he officially retired.
He died on April 8, 1955.
GI SMITH