D.C. Regional Association draws big crowd during Nationals game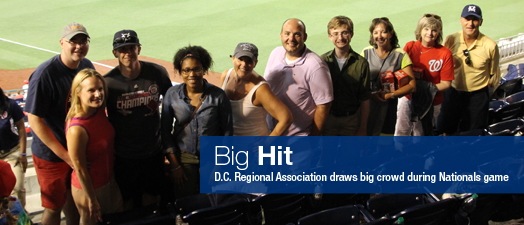 When the Washington Nationals first took the field for their June 30th game against Colorado, Section 231 — the area where Marietta alumni, students and friends were to gather — was steadily growing.
By the time Bryce Harper brought in the first run in the bottom of the fourth inning to take a 1-0 lead over the Rockies, the Marietta College section had grown to more than 20 strong.
For the second year in a row, the Washington, D.C., area Regional Association offered a special social gathering for alumni, students, family and friends to catch a game and catch up with each other during a Nationals home game.
Lifelong friends, Alpha Xi Delta sisters, and Nationals fans Debbie Hollander '78 and Nancey Kaplan McCann '76 were glad they decided to participate in their first D.C. Regional Association event.
"We go way back," McCann says. "We're both from Jersey and we knew each other before we went to college together. We live in the area and we stay in touch."
Both women were happy to be able to spend time with other Marietta College alumni and friends, even if they didn't know them personally before the first pitch was thrown.
"I think meeting here is a great idea," Hollander says. "We can catch up on things and we can watch the game — it's informal and it's fun."
Ben Reese '13, who is working this summer as a law clerk for the U.S. Attorney's Office for the District of Columbia, met current Marietta College student Chanell Cornett '16 at the game. Anna Custer-Singh '95 purchased tickets for the game but was unable to attend so she offered them to Reese.
Reese, who was a Marietta Forensics Team standout, met Cornett while judging the Ruth Wilcox Forensics Tournament this year. Cornett is interning this summer with U.S. Rep. Marcia Fudge's Office in D.C.
"I learned about this event through Ben and the (Marietta College Alumni Association's) Facebook page," Cornett says. "I thought it would be fun and a good way to meet more people."
Unexpected members joined the section just after the second inning, when someone in the group noticed a man wearing a Marietta College baseball cap. Ann Foraker Nicely '03, Associate Director of Alumni Events and Services, learned the man, Craig Wharton, was at the game with his sons, Todd and Guy. Guy Wharton '17 will be entering his sophomore year at Marietta majoring in Petroleum Engineering.
"Diane Bria-Wharton '88 is my mother and my uncle graduated with a petroleum engineering degree from Marietta also," Guy says. "I work for Jeff Schaly '90 in Athletics. We're Nationals fans and just happened to be at the game."
Nicely invited the Whartons to sit with the Marietta crowd. Before the seventh-inning stretch, the group was brought to their feet as the Nationals scored five runs in the bottom of the sixth inning. The game ended with the home team besting the Rockies 7-3.
Lindsay Shuba '05 brought her friend, Kevin Donnelly, to the game and was happy to see new faces joining the Regional Association's big summer outing.
"That's the best part of coming to one of our events, meeting new people," Shuba says. "The more strangers, the better because you won't be strangers for long."