December grads enjoy their day with family, friends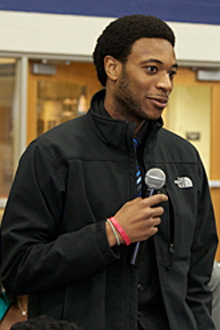 Sherrill and Reggie Wallace get the rare opportunity to watch their son, Terrance '12 (Westerville, Ohio), graduate from Marietta College twice.
The Wallaces were in Marietta Sunday (Dec. 9) for the College's informal December Graduation at Fenton Court. They also plan to see Terrance walk at the 176th Commencement ceremony on May 13 in the Dyson Baudo Recreation Center.
"Today was very important because we are closer to closure," Sherrill said. "You realize all of your prayers, worries, concerns and joys are just being fulfilled. This is letting us know we have put him in a good place to move on with his life."
Terrance's mother always knew Marietta College was the best fit for her son.
"He was accepted to much bigger schools, but Marietta was the best for him," she said. "The faculty and staff were always so accessible and that is important and allowed him to stay focused on what was important."
Reggie added, "He also got to continue in athletics and that was important to him."
Terrance, who competed in cross country and track, gives his parents a lot of the credit for helping him finish his degree requirements for a Bachelor of Arts in Political Science.
"Without mom and dad I am not finishing school," he said. "They have always been there with money or advice."
He also said Marietta College helped him mature into the leader he is now.
"College really is the best time of your life. You get to meet a bunch of new people and you have total freedom to learn and grow," he said. "The track team helped me grow up, and the Political Science Department helped me expand my way of thinking."
Terrance was one of 21 December graduates who participated in the ceremony that allows the newest members of The Long Blue Line to get there two or three minutes with the microphone to thank whomever they want.
When it was her turn to thank everyone, Samantha Rementer '12 (Upper Darby, Pa.) was surrounded by family and her closest friends.
"This is such a wonderful opportunity," said the Psychology major. "I like that we are allowed to stand up and express our feelings to a group of people who mean so much to us. It's also nice to let the people at the College know how much they have meant to us as well."
The proceedings lasted just 40 minutes and included a welcome from President Joseph Bruno, remarks from interim Provost Gama Perruci and an alumni greeting from Matthew Weekley '81. Nicole Futoran '13 (Brookpark, Ohio) sang the College Hymn and the Alma Mater.
The December graduates have the option of walking at the spring commencement to receive their diplomas or receive them in the mail in early 2013. One thing was clear to all of them Saturday — they are moving on to a new chapter in their lives.
"I've been here for what seems like a long time, but I have really enjoyed it," Rementer said. "It's going to take some getting used to not having to write a paper or study for a test."