December Graduation set for 2 p.m. Dec. 9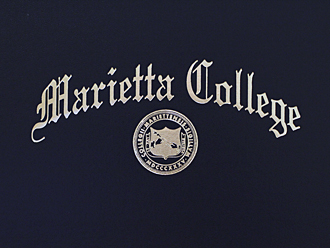 With the fall semester winding down, Marietta College is ready to welcome 56 new members to The Long Blue Line as the annual December Graduation Celebration is scheduled for 2 p.m., Sunday, Dec. 9, on Fenton Court.
The winter commencement has always been an informal celebration in which students are allowed to pass around a microphone and thank family and friends.
The students won't officially receive their diplomas until early spring in the mail (or at the 176th Commencement on May 12).
President Joe Bruno, who joined Marietta on July 1, will actually be conducting his second graduation ceremony. In his first month he was part of the Physician Assistant commencement.
The alumni greeting will come from Matthew B. Weekley '81, who is the Vice Chair of the Marietta College Alumni Association.