Department of Music opens concert season on Oct. 18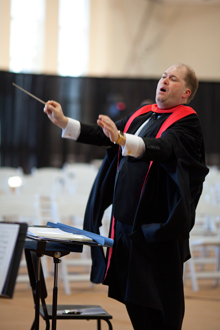 The Edward E. MacTaggart Department of Music will be adding a taste of culture to the College and community as it begins its 2013-14 concert season. The season will showcase both new and traditional shows, as well as a theatre production and performances alongside professional musicians.
The series debuts on Friday, Oct. 18 with a choral concert "Seeking Light and Beauty." This event, which will combine the talents of the men's ensemble, women's choir and concert choir, will take place at 7:30 p.m. at the First Congregational Church of Marietta.
On Oct. 30, the department will feature a show from the symphonic band and wind ensemble called "Music during Times of Conflict." This performance explores the role that music played during periods of conflict in our nation's history and begins at 7:30 p.m. in Marietta College's Fenton Court.
November will kick off with a production of Meredith Wilson's 1957 Broadway hit "The Music Man," presented by the Marietta College Theatre Department. The musical will take place the weekend of Nov. 8-10 in the College's Friederich Theatre in the Hermann Fine Arts Center. Tickets are $15 for adults, $12.50 for seniors and $10 for students, with no cost to Marietta College students and employees.
For lovers of jazz and contemporary music, the instrumental and vocal show "Jump, Jive and Wail!" will take place Dec. 3 at 7:30 p.m., followed by the beloved "Tuba Christmas" at 4 p.m. on Dec. 7. Both of these events will be in the Friederich Theatre.
On Dec. 8 at 7 p.m., Marietta College's Oratorio chorus will join with professional soloists to present the 87th annual performance of "Handel's Messiah." This will be in the St. Mary of the Assumption Basilica in St. Mary's Catholic Church on Fourth Street.
The semester will conclude with the fifth annual "Christmas with the Concert Choir," accompanied by a professional orchestra, at 7:30 p.m., Dec. 15, also at the Basilica.
"The music department is going through a very unique season because of its conjunction with the theater department in the fall musical — The Music Man. The music for the fall concert is beautiful and all pieces carry a common thread through each piece whether it be through tone or message," said Conner Busby '14 (Canton, Ohio). "My favorite part of performing is making music with my closest friends and getting the chance to affect lives for the better. I am excited for all of the concerts, however, I am most excited to perform in the Messiah concert because it will be my first time performing Handel's Messiah."
All performances are open to the public. For a full schedule of events, including those running through the spring 2014 semester, contact the Edward E. MacTaggart Department of Music.