Don Schaly '59 named to 2013 National College Baseball Hall of Fame class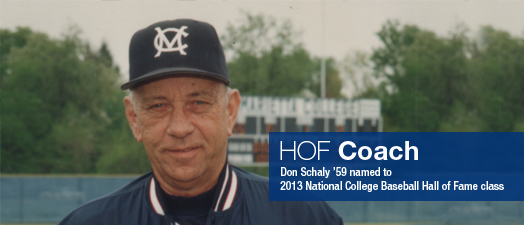 Don Schaly '59, who built Marietta College baseball into one of the most-respected programs in the nation, will join six others as part of the eighth class of National College Baseball Hall of Fame.
The announcement was made Thursday, April 11. Schaly and the rest of the class will be inducted during the two-day College Baseball Night of Champions celebration in Lubbock, Texas, June 28-29.
Joining Schaly in the 2013 class is Sal Bando, a standout third baseman at Arizona State from 1964-1965; Ralph Garr, who batted .418 in a stellar career at Grambling from 1964-1967; Tino Martinez of the University of Tampa, for whom the Division II Player of the Year award is named; and Roy Smalley of USC, a shortstop for the Trojans from 1973-1974: Tom Borland of Oklahoma State University, who fashioned a perfect 11-0 record on the way to being named first-team All-American in 1955; John Winkin, who coached at Colby College, the University of Maine and Husson College from 1954-2006 and led his Maine Black Bear teams to six College World Series appearances.
"This class brings a different flavor to the induction process because it features our first Division III coach, perhaps the greatest Division II player ever and three players from the 1950s, '60s and early '70s, which is a time period that has been a bit underrepresented in past inductions," says Mike Gustafson, executive director of the College Baseball Hall of Fame. "We are excited to welcome them to the Hall of Fame."
Kent Tekulve '69, who recorded 184 saves during a 16-year Major League career, says it is fitting that Schaly is the first Division III coach to be included in this relatively new Hall of Fame.
"Before Don Schaly, Division III baseball was treated almost like a club sport," says Tekulve, a member of Marietta's Athletics Hall of Fame. "He changed that mentality at Marietta, but also in Division III baseball. He turned Marietta into a real baseball program. I think we were the first to make a spring trip, and then he made it a year-round commitment to staying in shape and playing summer ball. What you saw after that was other programs trying to copy what he was doing at Marietta."
In 1975, Schaly guided the Etta Express to the World Series, which was then a combined championship between Division II and III programs. Marietta lost in the championship 10-7 to Florida Southern, which was loaded with scholarship players. The following season, the NCAA started a separate Division III tournament.
On that team was All-American Jim Tracy '78, who went on to play in the Major Leagues and manage the Dodgers, Pirates and Rockies.
"Coach Schaly is one of the best well-kept secrets in baseball and now that secret will be revealed," Tracy says. "Coach Schaly left a lasting impression on me that influences how I have gone about my business on a daily basis in professional baseball."
Schaly's credentials are impeccable. At the time of his retirement in 2003, he had compiled the best record in NCAA Division III history at 1,442-329. He coached more than 600 baseball players and his accomplishments are legendary.
Schaly guided his teams to three NCAA Division III National Championships and seven National Runner-up finishes, including the 2001 and 2002 seasons. He also won 18 Mideast Regional Championships and 27 Ohio Athletic Conference Championships, including 13 consecutive titles from 1990 to 2002. The OAC Coach of the Year Award is named after him.
On May 4, 2002, Schaly became only the third coach in NCAA Baseball history to amass 1,400 career victories, and his .814 winning percentage also ranks him as the winningest baseball coach in the NCAA (all divisions).
Schaly also gathered an outstanding collection of coaching awards during his career. In 1995, he was inducted into the American Baseball Coaches Association (ABCA) Hall of Fame. He was named the National Coach of the Year four times (1975, 1981, 1983 and 1986), and in 2000 he was named Coach of the Century by Collegiate Baseball. Schaly was also named the OAC's Coach of the Year 17 times and the Mideast Regional Coach of the Year 21 times.
He also coached 39 players who reached some level of professional baseball.
Schaly died on March 9, 2005, after a short fight with cancer. At his funeral in Marietta, hundreds of former players returned to pay their tributes to the man who not only shaped their baseball lives, but also their post-college careers.
Following his death, the College recognized Schaly by making his No. 50 the first and only jersey ever retired. Marietta also renamed Pioneer Park in 2006 to Don Schaly Stadium.
Brian Brewer '93, who played for Schaly and took over the program in 2004, says it was his mentor's commitment and determination that built Marietta College into the nation's most respected Division III baseball team. While Brewer has enjoyed a great deal of success with his alma mater, including back-to-back National Championships in 2011 and 2012, he says none of that would be possible without the foundation established by Schaly.
"I love him like a father and I am the man I am today because of Don Schaly's influence," says Brewer, who also won a championship in 2006. "Marietta College baseball is the premiere Division III program because of the hard work of Coach Schaly. This is not to take away from the hard work and dedication of our current players and coaches, but we stepped into a situation that was tailor made for us to be successful. This honor is one he truly deserves."
Schaly was more than a baseball coach, though. He was an assistant football coach for 17 years and served as an Assistant Athletics Director for more than 20 years. Schaly also played a primary role in the formation of the Marietta College Athletic Hall of Fame, into which he was inducted in 2004.
Schaly also had a very supportive family. His wife, Sue, very seldom ever missed a game, while his sons all served as batboys and two of them wore the pinstripes — John '82 and Joe '86. Both of them coach their own programs — John at Ashland University and Joe with Thiel College. Jim '84 is currently a college umpire who worked the Division I championship in 2011, and Jeff '90 is Marietta's Assistant Director of Athletics.
"We haven't had a chance to talk a whole lot, but we're all very proud and just wish he were here to see it for himself. We know he's very deserving," John says. "He would be very humble and try to point out how much help he had received from the College, administrators, coaches, players, managers and secretaries. That was important to him."
For Tekulve, Schaly's influence extended well beyond the diamond.
"You don't ever forget the on-field lessons that you learned from him, but what had a bigger impact on many of his players was how he helped develop us as men," Tekulve says.