Donnellys show support through annual gifts, volunteering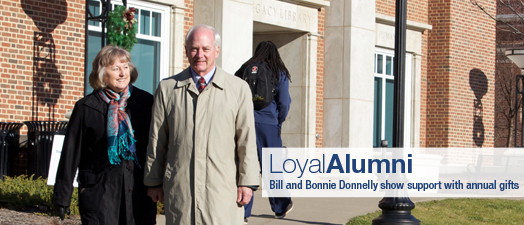 Bill '70 and Bonnie Donnelly '91 have been involved at Marietta College for so long it's almost impossible for them to remember a time when it didn't play a part in their lives.
The Donnellys' affinity for Marietta College runs deep and is evident in their regular contributions to The Marietta Fund since the 1970s. They are also members of the Erwin Academy for lifetime giving above $50,000.
"While the major gift donations help move large project ideas to realities, continuous giving retains the high value of our diplomas, by supporting the ongoing needs of the College," Bill says. "At the same time, we feel connected to The Long Blue Line by understanding many, many others are helping as we are. We love our private, liberal arts college. We want to help maintain for others what we consider the turning point place of our lives."
The Marietta Fund supports all aspects of Marietta College and is part of the operating budget. This year, the College has set a $1.7 million goal for The Marietta Fund.
Bill and Bonnie are doing their part to help by making another gift just before the turn of the calendar year, which is an important way for the College to achieve its goal by June 30, 2013. Anyone interested in making a donation can contact the Advancement Department by calling 1-800-274-4704 or (740) 376-4704, or give online at http://www.marietta.edu/Give/.
"Bill and Bonnie support Marietta College in so many ways. They are both alumni, President's Circle members ($1,500 or more to The Marietta Fund), parents of graduates, donors to the Scott Endowment and other college initiatives, volunteers for big and small events, including Presidential Inaugurations and special events, and they always think of Marietta College and how they can be of service," says Angela Anderson, Director of Advancement. "The support they provide to Marietta College is appreciated, they exemplify the spirit of The Long Blue Line."
Bill, who is a third generation owner of Hayes Insurance Company in Marietta, is a member of the Cotton Society after serving on the Board of Trustees from 1986 to 2000. He began volunteering as the Board secretary in 2000 and remains in that position today.
"Bill doesn't blow his own horn about what he has helped to accomplish for Marietta College, but he has missed few board and committee meetings in all those years," Bonnie says.
Bonnie's contributions to Marietta College can't go overlooked either. The mother of two — Robert and Emily '97 — has served as an alumni director, admission counselor and volunteer. She also organized the inauguration of Dr. Jean A. Scott in October of 2000.
Once she became a grandmother, Bonnie officially retired to be a bigger part of their lives. But the Donnellys' love and compassion for Marietta College has never wavered.
"We live in Marietta, so we see the results of the continuous flow of yearly giving support. I look at The Marietta Fund as the river that helps keep the College afloat," Bonnie says. "And the major gifts are for the beautiful riverboat Marietta College. She would be useless without the river, and, as part of The Long Blue Line river, we are proud to support and keep her beautiful."
The Donnellys are The Marietta Fund.