Doo Dah Day welcomes HelloGoodbye, Kingsfoil on April 20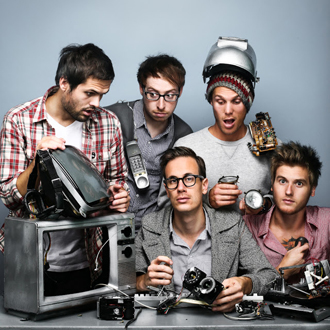 For the last couple of years, poor weather and low turnout at events has rained on students' Doo Dah Day parade.
Fortunately, that is unlikely to happen this year.
Through a partnership between College Union Board and Student Senate, along with some assistance from President Joe Bruno, Marietta College will play host to its first larger-scale concert in many years when Kingsfoil and HelloGoodbye take the stage on April 20.
The idea of bringing a big concert to campus was inspired by a conversation Student Senate President Connor Walters '13 (Bay Village, Ohio) and CUB President Mallory Haynes '13 (Lore City, Ohio) had with President Bruno. At Bruno's previous institution, Wesleyan University, the campus hosted a large concert every year to celebrate the end of the school year. It was the sort of thing students looked forward to all year and that the entire campus turned out for.
Such was the dream for this year's Doo Dah Day.
"The goal was to make it a truly quality event that students want to participate in," CUB Campus Traditions Chair Alex Martin '14 (Aurora, Colo.) said of this year's schedule of events. "To accomplish this we are working on having more free giveaways, a raffle for big prizes, and of course great food, music, and fun."
Also headlining the main events for the day are two comedians, Paul Varghese and Arvin Mitchell, who will perform prior to the concert.
Although the DBRC doors to the comedians and concert open at 6:30 p.m., students will not have to wait all day to engage in on-campus activities. CUB will also have giveaways such as street signs, airbrush t-shirts, a caricaturist, photo booth, deejay and food throughout the afternoon on the mall and in the amphitheater.
Haynes said that when she took over the organization it was her goal to help raise the quality of events on one of the most anticipated days of the year.
"When Student Senate approached our organization about working together to bring in a larger band for Doo Dah Day, there were a lot of steps to take before we could get too excited," Haynes said. "We first reevaluated our budget and looked for different opportunities to have a large enough budget to bring in a larger scale band."
With financial assistance acquired through President Bruno, CUB and Student Senate began working together to make the event possible. After an extensive process, the decision was made to seek out Kingsfoil, which stars former television star Frankie Muniz, as an opening act, and HelloGoodbye as the main performance. Fortunately, both bands accepted the offer to make their first trip to Marietta.
Haynes, Martin, and members of CUB and Student Senate have been hard at work ever since to make this signature event possible.
"In the end it will all be worth the hard work and dedication from everyone to make such an amazing event," Haynes said.
Students have already begun picking up their concert tickets in anticipation of the 2013 Doo Dah Day, when an old college tradition gets revived.