Double-bill closes out fall theatre schedule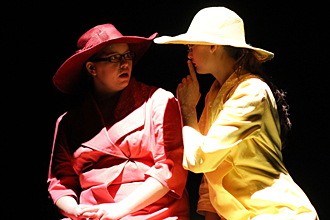 Marietta College's Theatre Department is closing out the fall semester with a double-bill of "The Wayfarer" by Valery Briusov and "The Love Talker" by Deborah Pryor.
Jeffrey M. Cordell will direct both performances in the Friederich Theatre, which are scheduled for 8 p.m. Nov. 14, 15, 21 and 22, and 2 p.m. Nov. 16 and 22.
Cordell said the production team also involves two theatre majors who are completing their senior capstone projects on this show: Ashley Hungerford '16 (Washington, W.Va.), who serves as production stage manager, and Angela Shrader '15 (Parkersburg, W.Va.), who plays the roles of puppeteer in "The Wayfarer" and The Red Head in "The Love Talker." The public presentations of their learning on this show as a culmination of their academic career will take place during special events connected to the public performances.
"I have wanted to direct 'The Love Talker' since I met the script in a graduate acting course around 10 years ago. I have shared the play with many students at Marietta College over the past decade who have fallen in love with the play as well and wanted us to produce it," Cordell said. "The play's atmosphere, fights, mysteries, and scares will be a great fit for our mainstage thrust arrangement this season. It is also an excellent fit for our students' learning of performance techniques, technical theatre skills, and theatrical design processes — especially our current semester's lighting and costume design students."
Cordell also added, "(It) is a compelling story for our community right now — an Appalachian spook tale of woman vs. environment, a contemplation of the power and resilience of our young women, and a tale of the darkness in nature that lures us with beautiful and destructive forces."           
Cordell is also excited about the production of "The Wayfarer."
"I first encountered 'The Wayfarer' when I taught Modern European Drama in the Fall of 2009. Revisiting it again, I saw it as a natural companion for 'The Love Talker' and a great opener for a double-bill evening of plays," he said. "Our concept for this 100-year-old verse drama includes using two puppets and three puppeteers to play the non-speaking role of 'The Wayfarer.' Julia, the only other character in the play, is a great challenge for a young actress in its blend of poetry and psychology."
Ticket prices for all Friederich Theatre performances are $10 for adults, $9 for seniors and $5 for students. Marietta College students and employees are free.