Dr. Bauer receives Ben Bonanno Disability Advocate Award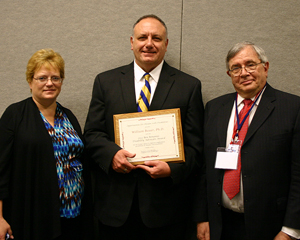 Marietta College's Dr. William M. Bauer, McCoy Associate Professor of Education, was recently awarded the Ben Bonanno Disability Advocate Award.
The award was presented by the Opportunities for Ohioans with Disabilities (OOD) Commissioners during their meeting with the Ohio Disability Jobs Summit.
OOD Commission Vice-Chair Dr. Jack Licate, in presenting Bauer with this award, said Bauer, "has been tireless in his advocacy of individuals with disabilities. His efforts clearly demonstrate his commitment to increase opportunities for people with disabilities to become fully integrated into all facets of community life."
Bauer was nominated for the award by Carma Schilling of the Washington Bureau of Children with Medical Handicaps, Ted Kennedy, Jr., a long-time friend of Bauer, and Bryan Van Dyne, a former Marietta College student in Bauer's class.
"Even though I have only been here a short time, it is already clear that Bill's contributions to the campus and community have tremendous impact," said Dr. Karyn Sproles, Provost and Dean of the Faculty.