Dr. Joseph Bruno inaugurated as 18th President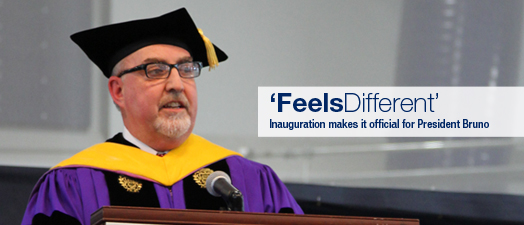 Gathered with his wife and daughter in his office, only minutes after the Presidential Inauguration, Dr. Joseph W. Bruno had a look of relief.
Someone asked, "Does it change anything?"
His response?
"It feels different," President Bruno says.
After a little more than 100 days on the job, Board of Trustees Chair Barbara Perry Fitzgerald '73 delivered Marietta College's charter to President Bruno during a stirring and emotional inauguration ceremony in front of more than 700 faculty, staff, alumni and friends at Dyson Baudo Recreation Center.
At that moment, he "officially" became the College's 18th president.
"We have a faculty committed to challenging students, a student body ready to excel in the classroom and in the community, a staff ready to ensure the success of our enterprise and alumni and friends prepared to support all we do," President Bruno says.
Remembering that his first days in Marietta coincided with a fast-moving windstorm that knocked out power to most of the region, including the College, President Bruno considered making his address fit a similar theme.
"Reviewing the landscape of higher education and the similar challenges facing us still, I'm tempted to choose a theme that evokes a sense of powerlessness," he says. "But I will resist because the lights did come back on for us, and more tellingly, because I have endless faith in the ability of this community to overcome the skeptics, to answer the criticisms of modern higher education with action and example and to continue the upward trajectory on which we now find ourselves."
The afternoon ceremony included a keynote address by Dr. Judith C. Brown, Emerita Professor of History at Wesleyan University, where she was a mentor for President Bruno. Dr. John Churchill, National Secretary of Phi Beta Kappa, also welcomed President Bruno to Marietta. The ceremony was also graced by Marietta College's Symphonic Band, under the director of Marshall Kimball, and the College's Concert Choir, under the director of Dr. Daniel Monek.
Dr. Robert H. Huntington, President of Heidelberg University in Tiffin, Ohio, served as the delegate greeter. He also noted the shared commonality in their backgrounds, including their move from New England to accept their presidencies.
"Please note that the weather can be a different form of nasty in the Buckeye state," Huntington says. "The other thing about Ohio is cornfields … lot's of them! If you find yourself driving around lost in the midst of beautiful corn, like I did trying to find my way home to Tiffin two summers ago, ask someone for assistance. Your GPS will not work and everyone is friendly in this state."
Ohio's friendly demeanor was obvious when Student Senate President Connor Walters '13 (Bay Village, Ohio) jokingly asked President Bruno if he would consider wearing the Pioneer mascot outfit for Saturday's football game.
Walters was also pleased to welcome the new president to Marietta.
"Our students care about their alma mater, although I confess far too few actually know the words to the song," Walters says. "What I believe characterizes Marietta College students is passion, and much of that passion is geared toward the betterment and positive recognition of our institution. The student body sees that passionate, pioneer spirit within you and is eager to work with you to drive this College westward — figuratively, of course."
Paula King Pitasky '96 of the Marietta College Alumni Association was in the same position as Walters when Dr. Larry Wilson was inaugurated as the 16th President in 1995. On that day she presented Wilson with a toolbox to help him get to work.
"While the years have passed and much has changed, the notion of presenting a toolbox on an occasion such as this once again seems just too perfect a thread to pass up … but keep in mind, the contents of this toolbox will need to be significantly different," she says.
While her toolbox included a stethoscope and a bottomless supply of Post-It notes, the final tool is arguably the most important one.
"Finally, we will throw in something very special and dear to all Pioneers … a large measure of support," Pitasky says. "The support of more than 25,000 of us who comprise The Long Blue Line."
Debbie Lazorik, Associate Professor of Sports Management and Chair of Faculty Council, spoke on behalf of her colleagues. She says the faculty seeks his "vision, decision making and commitment to bring us together as one community to achieve great things."
"Dr. Bruno, we know from your own personal journey as a scholar, teacher and provost that you share our commitment to teaching and learning," Lazorik says. "When you speak of the commitment to educating our students you speak from experience as a distinguished teacher and scholar. We are proud that our new President is one of us … but we also take great pleasure in knowing that you come to us as an accomplished administrator."
Director of the Physical Plant Fred Smith, representing the staff at the College, says everyone he has spoken with is impressed by President Bruno's desire to get to know everyone on a personal level — even before joining Marietta. That made the transition smooth.
"Over the course of the ensuring weeks and months, through regional power outages, Move-in Day, and now to this special celebration, we've seen the same warmth and human touch again and again confirming that you were more than a candidate on that first visit," Smith says. "You were our next president."
Marietta's student body, who have embraced the Bruno family — which includes President Bruno's wife, Diane, and daughter, Lisa — have enjoyed getting to know the new leader through meals in the President's house and informal discussions on the Christy Mall.
Lisa provided the audience with a little insight to a president who is also a dad.
"From how to throw a ball to how to craft an articulate paper, my father has taught me more than anyone else and has been there through it all. He was my chemistry tutor when I was taking CHEM 101, also known as when I realized I was a humanities girl. He was there when I fell on the playground and needed stitches. He provided roadside assistance, or DadStar as we like to call it," Lisa says. "Through it all, I knew I could always count on dad. When I was telling my co-worker about my dad one day she pointed out that my face lights up when I talk about him. … Dad, I'm incredibly proud of you, of all that you have accomplished, and all that you do. You're the type of role model every child hopes to have in a parent; and the students, faculty and staff at Marietta College are very, very fortunate to have you and mom as stellar additions to this illustrious institution."