Duong Le — Business & Economics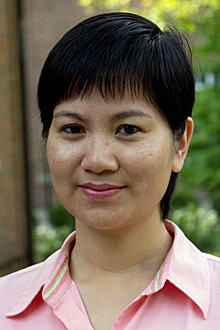 If you have any questions regarding finance, Dr. Duong Le is the person you should talk to. 
The classes she teaches include Business Finance, International Finance, Investments, Risk Management, and Portfolio Management.
Through her classes, Le hopes her students will learn that finance concepts are important and can benefit one's personal life.
"My goal is to make finance accessible and to have an engaging relationship with my students," she says.
Le's inclination toward teaching developed near the end of her undergraduate career. "I found that I loved helping fellow classmates and was good at explaining concepts. It's a good feeling helping others understand concepts they find difficult."
That feeling is what fosters Le's favorite moments in teaching. "What I love most is when I'm able to make the most complicated concepts accessible to students, when they have that noticeable epiphany of understanding." 
Le enjoys the change in scenery that has come with her move to Marietta.
"It's a charming town. I just love it here. It's really beautiful, with the beautiful trees and brick streets, and the historic downtown," she says. "I have always liked living in places that have a historic feeling."
Even though she taught at the University of Arkansas at Little Rock for five years before coming to Marietta College, Le already feels like she belongs. "The friendliness of colleagues and students and the nurturing small-town atmosphere here has helped me to feel like I am a part of the community, more so than I ever really felt in Little Rock."
Le enjoys the opportunities and relationships that are able to be cultivated from Marietta's small class sizes.
"It's a fulfilling experience getting to interact with students one-on-one. I love the close-knit relationships that are established between faculty and students here," she adds.
As for the effectiveness that comes from having a smaller class, "Everyone is different. When trying to make sure everyone has a clear understanding, teaching an unfamiliar topic to a large group can often be ineffective."
Another aspect of Marietta College that Le already loves is the involvement of those who populate the campus. "There are a lot of student activities. I enjoy walking around and getting to see a lot of my students practicing."
Le looks forward to getting involved in areas of the College community outside of the classroom eventually. Her main priority right now is getting to know her students and making the best preparations possible for her classes.
Outside of the classroom, Le loves to go hiking, riding her bike along the river, and walking around downtown, enjoying the scenery.