Early events focused on College's theme of 'Internationalization'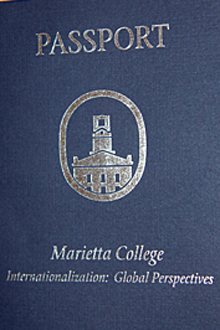 Upon their arrival to campus, Marietta College's student body received individual "passports" to use during this year's campus theme of Internationalization: Global Perspectives.
As part of the annual theme, the College brings speakers and other programs that fit into the topic. The student passports can be stamped at predetermined events that will give them an opportunity to earn prizes each semester.
The first event for the fall season that fits into the theme is a Pizza & Politics at 5 p.m., Thursday, Sept. 5, in Thomas 124. The topic is "Will the U.S. attack Syria?" The event is free and pizza and drinks will be served.
Christy Burke, Director of Education Abroad and chair of the College Theme committee, said students who attend six international theme events this fall and get a stamp will be entered into a prize drawing.
"Individuals who have not received the Theme Year passport can stop by the Office of Education Abroad in Thomas 214 to get one," she said.
Students can almost get all six stamps over the next few weeks.
Kelsey Timmerman, author of "Where Am I Wearing?" is speaking as part of the Esbenshade Series at 7:30 p.m., Tuesday, Sept. 10, on Fenton Court. His book is this year's Common Reading assignment.
The very next day at 7 p.m., the Latin American Film Series will present Y Tu Mamá También in Thomas 124.
On Sept. 12, students can attend the first Global Palate at 6 p.m. in the Andrews Hall Great Room. The food selections will be from Thailand.
Education Abroad is hosting a Global Gateways at noon, Friday, Sept. 20, in Thomas 209. During this one-hour event students who have recently traveled abroad will speak about their experiences.
The final event in September is the Experiential Education Fair during Family Weekend at 3 p.m., Friday, Sept. 20, in the Fireplace Lounge.
It is the fourth consecutive year the College has selected a specific theme to highlight. Past years have included Health & Wellness, Energy & Environment and Leadership and Social Justice.