Economics students claim awards at undergraduate conference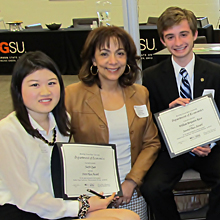 Marietta College's Jiaxin Quan '13 (Beijing, China) and Ben Reese '13 (Marietta, Ohio) each won awards at Bowling Green State University's Undergraduate Economics Student Paper Contest and Conference on Saturday, April 6.
Quan, who is majoring in both Economics and Advertising & Public Relations, won the first-place award in Macroeconomics Division of the conference for her paper entitled "Determinants of Income Inequality: A Panel Data Analysis."
Her paper looks at how income inequality has become a source of concern in the U.S. as well as in many countries around the world in recent years. Her study found no significant correlation between income inequality and inflation or the secondary school enrollment rates.
Reese, who is majoring in both Economics and Political Science, won the second-place award in Microeconomics Division of the conference for his paper entitled "An Empirical Analysis of the Determinants of Healthcare Expenditures in Developed Nations. He also received a second award for his presentation.
His paper looks at the passage of the Affordable Care Act (ACA) and the continuing debate over how to combat rising health care expenditures in the United States. Findings suggest health care spending is price inelastic but elastic with respect to income. This implies that governments should seek to manage demand while not adversely affecting overall health.
Dr. Jacqueline Khorassani accompanied the students at the conference.