Education's Mowrer named 2013 McCoy Professor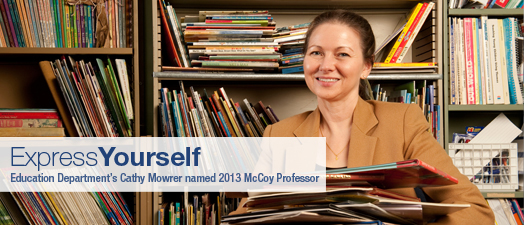 Dancing in the provost's office is not a normal sight. Sometimes, though, you have to throw protocol out the window and just do what feels right.
Upon learning she would be the 2013 McCoy Professor, Dr. Cathy Mowrer couldn't control her emotions.
"I actually danced in Provost Perruci's office upon hearing the news," Mowrer says. "I asked for permission first and he said it was OK. … It is quite an honor. We all have emotions and we express them. I just felt the need to physically express them. I was so tickled and pleased."
Dr. Gama Perruci, Interim Provost and Dean of the Faculty, was excited to share the news with Mowrer this winter.
"Marietta College places a strong emphasis on excellence in teaching. I'm so glad that we have an award designed to recognize the excellent job our faculty are doing in the classroom," Perruci says. "Dr. Mower has established a strong teaching record since joining our faculty. We are delighted that the selection committee chose her as this year's McCoy Professor."
In a letter from the selection committee, the Education faculty member was given the following reasons for her selection: engagement of students, knowledge of content, rapport with students, classroom management skills and innovative teaching. They also stated that she practices what she preaches.
"I'm extremely honored to be named the newest McCoy Professor.  As a teacher in the public schools, and now at the college level, I am very proud to be recognized for my competency as an educator.  I can't think of a higher manner to be recognized than in my profession that I respect and am devoted to," she says. "I'm also grateful to be among the McCoy Professors who have been named before me and those who will come after me."
The late John G. '35 and Jeanne McCoy established the four-year recognition plus stipend in 1993 as part of the McCoy Endowment for Teaching Excellence. After peers nominated Mowrer, a group of nationally recognized teachers working outside of the Marietta College community reviewed her portfolio and observed two of her classes.
Including Mowrer, there are 19 McCoy Professors on the current faculty: Dr. Mary Barnas, Dr. Bill Bauer, Dr. Janet Bland, Dr. Gregory Delemeester, Dr. Carolyn Hares-Stryker, Dr. Bev Hogue, Grace Johnson, Dr. Ryan May, Dr. Katy McDaniel, Dr. Rob McManus, Dr. Kevin Pate, Dr. Gamaliel Perruci, Jolene Powell, Dr. Mark Sibicky, Dr. Steven Spilatro, Dr. Michael Taylor, Dr. Ena Vulor and Dr. Matthew Young.
Mowrer has developed a number of programs that have proven very successful with her students and for local educators. One of particular note is "Traveling Trunks," which she cultivated with the help of her social studies students. They researched and organized lesson plans that are included in the trunk, but they also included artifacts that school children don't normally see. Mowrer says local teachers can pick up a trunk and take it to their classroom to aid in the education of a specific topic.
"She is one of the most influential teachers I have had because she models everything she teaches. Not only does she explain and give way to new and innovative techniques for the classroom, but she puts them in to practice," says Sarah Brunner '13 (Horsham, Pa.). "Her class consists of a variety of different methods that allow us, future teachers, to see and practice the techniques we will want to use in our classrooms."