Education Department hosting 24-hour Teach-a-Thon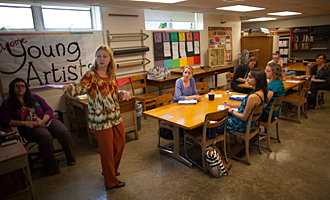 For 24 consecutive hours, someone from Marietta College's Education Department will be teaching a class in Erwin Hall starting at 8 a.m., Tuesday, March 31.
The brainchild of Drs. Bill Bauer and Cathy Mowrer, the 24-hour Teach-a-Thon was organized to raise awareness — and money — for the College's Pioneer Pipeline Program, which is a nationally recognized, award-winning program.
"I had initially hoped that we would set a Guinness World Record with our Teach-A-Thon," Mowrer said. "I soon realized that a better goal was to provide an engaging event that Marietta College students and the greater Marietta community could participate in while also promoting awareness and fundraising for the amazing Pioneer Pipeline Program."
The American Council on Rural Special Education (ACRES) recently selected Marietta College's Pioneer Pipeline Program, which matches students with disabilities with college students, for an Exemplary Program Award.
The Teach-A-Thon will feature lessons taught by Bauer and Mowrer, both McCoy Associate Professors. Some of the courses will be closed because they are regular courses the professors teach, and most courses are 75-minutes and there will be 15-minute breaks in between.
"I am excited to be a part of this effort. Dr. Mowrer and I have put together an exhaustive list of lectures for the 24-hour Teach-a-Thon," Bauer said. "Monies raised will benefit Marietta College's Pioneer Pipeline program. We hope Marietta College and the Marietta community will attend one of our sessions."
Course topics being offered include study skills, basic American Sign Language and a history as mystery discussion on the 1919 World Series Black Sox Scandal.
The Pioneer Pipeline incorporates Warren High School students into Marietta College campus life two days a week to facilitate the development of social and functional life skills. The program utilizes a three-part process emphasizing academics, recreation and employment. The Warren High School students work with Marietta College student mentors from the Education and Psychology departments in a variety of settings — both inside and outside the classroom to complete projects, take trips and build a variety of skills.
Anyone interested in participating in the Teach-A-Thon, either by attending course sessions or helping sponsor the event, should contact Billie Huck, Administrative Coordinator, (740) 376-4794 or bh001@marietta.edu. Here is a listing of the classes that will be taught.